As we all get older, it will be more difficult for many of us to get around. Simply moving rooms might be a task much harder than hoped for.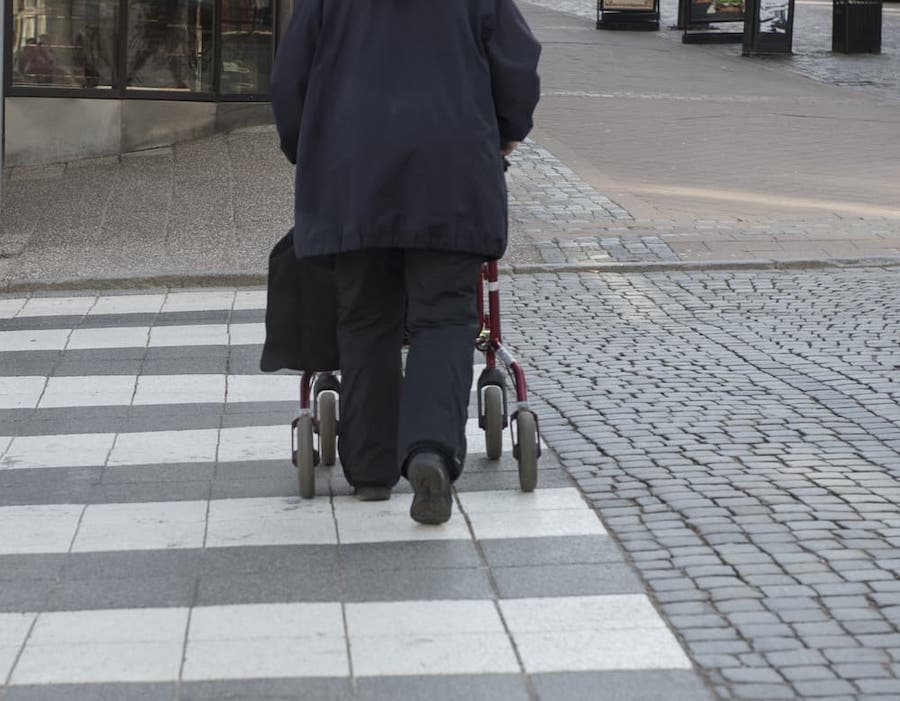 Sometimes, you may need a wheelchair, and other times, a rollator may be a better choice. Luckily, now you can get a rollator transport chair combo!
We've selected seven easy-to-use rollator transport chairs and will go over everything you need to know about purchasing one of these products.
Best Overall
Drive Medical 795BU Duet Folding Transport Wheelchair...
Best With Quality
Elenker 2 in 1 Rollator Walker & Transport Chair,...
Best For Budget
ProBasics Aluminum Rollator Walker with Seat -...
Best Overall
Drive Medical 795BU Duet Folding Transport Wheelchair...
Best With Quality
Elenker 2 in 1 Rollator Walker & Transport Chair,...
Best For Budget
ProBasics Aluminum Rollator Walker with Seat -...
#Affiliate links.Last update on 2023-06-09 at 22:45
Best Rollator Transport Chairs – Reviews
1. Drive Medical Duet Transport Wheelchair Rollator – Best Overall
#Affiliate links.Last update on 2023-06-09 at 22:45
This is a rollator and transport chair in one that is very popular in the market. You can use the chair both indoors and outdoors with ease.
The chair weighs in at roughly 20 pounds and has a folding frame for travel with a lock-out feature to ensure the rollator stays open when in use and folded when not.
This rollator is also equipped with a comfortable padded seat and backrest. The hand brakes are a great feature, convenient when traveling down a slope.
The chair handles outdoor terrain with ease and also performs well when being walked around your house or at the mall.
It also comes with a below-seat carry pouch for a secure place to store your items.
Overall, it embraces all the basic functions for a transport chair rollator combo but it is a bit easy to tilt forward, so be careful when use it.
Pros
Rollator and wheelchair in one
Hand brakes
Reasonably priced
Cons
No safety seatbelt
Easy to tip forward
2. Elenker 2 in 1 Rollator Walker & Transport Chair – Best with Quality
#Affiliate links.Last update on 2023-06-10 at 00:59
The Elenker rollator transport chair is a superb choice for those who struggle to stand for long periods. It has a 400lb weight-bearing capacity, but itself weighs only 22 pounds.
It has a metal frame attached to the seat for easy folding. When folded, you can store it in the trunk with a breeze. The padded seat, sturdy backrest, and ergonomic handbrakes offer great comfort for seniors. This chair also includes a cane holder.
We like the 7-level adjustable handles which help fit most heights of customers. The 10″ big front wheels ensure this combo could move freely on most surfaces.
When it comes to security, Elenker equips the chair for the seatbelt, enabling you to stay safe when pushed by caregivers. Just adjust the seatbelt and attach the footrest, this rollator will covert to a wheelchair.
Well, this price may be a bit higher than a typical 4 wheel rollator, but you could get an extra transport chair.
Pros
Lightweight
Foldable
Easy for travel
Seatbelt included for safety
400lb weight capacity
Adjustable handle height
Very easy to convert from walker to transport chair
Cons
The seat is too small for some heatheir people.
3. ProBasics Aluminum Rollator Transport Chair – Best for Budget
#Affiliate links.Last update on 2023-06-10 at 00:59
If you are on a budget and just want a simple 2-in-1 model, this is the one for you. ProBasics has constructed it from aluminum, so it is also strong and light.
Actually, it looks very similar to a traditional rollator but the footrest and specially designed backrest make it a good transport chair at the same time.
It features a strong brake system and the height of handles is adjustable. The basket under the seat is a good place to carry your personal storage.
However, it can only support up to 250 lbs and seems a not good choice for short people.
Pros
Low price tag
Made with strong material
Very easy to covert.
Cons
The weight capacity is only 250 lbs
The footrest can't be locked.
4. Medline Red Combination Rollator and Transport Chair – Best for Convenience
#Affiliate links.Last update on 2023-06-09 at 23:15
The Medlin Red Combination is the perfect rollator and wheelchair combo, having the function to convert between a rollator and wheelchair within seconds. There's a wealth of features, including easy-to-adjust footrests, zippered storage bags, a cup holder, and an under-the-seat storage bag.
All good rollators have built-in hand brakes, and this one is no different. The brakes ensure safety when walking and prevent slips.
This rollator has the most storage in any we found. Unfortunately, though, its weight limit is only 250 pounds, which is less than average. It also isn't the best chair for travel or storage as it is heavy and is still quite big when folded.
Pros
Ample storage
Sturdy
Built-in wheelchair
Cons
Low weight capacity
Still quite large when folded
5. Drive Medical Nitro Duet Rollator Wheelchair – Best for Comfort
#Affiliate links.Last update on 2023-06-09 at 23:15
If you want an extraordinarily adjustable and customizable combo, this Drive Medical Nitro Duet Rollator Wheelchair is for you. It's optional whether you use it to walk independently or get a friend to push you.
An adjustable back-strap allows you to change the height for the perfect fit and the back support and height adjustment allows for maximum comfort. The turning radius of the chair is also better than most other rollators.
Drive Medical designed the wheelchair with side to side folding capabilities for easy transport or travel. It also has a cross-brace that provides extra stability when in use.
The chair weighs 22lbs, which isn't the lightest, but you get a better turning radius and a robust folding frame. This rollator has a weight-bearing capacity of 300lbs.
Pros
Sturdy
Tight turning radius
Adjustable and customizable
Cons
6. Vive Mobility Rollator Wheelchair – Best All-Round Choice
#Affiliate links.Last update on 2023-06-09 at 23:15
If you're someone who likes to walk when you can but need to rest or ride at times, this Vive Mobility Rollator Wheelchair has a nifty feature that allows it to transition from a rollator to a wheelchair very easily.
This dual-purpose aspect and quick transformation ability allows more freedom and independence than being permanently stuck in a wheelchair.
Seating on the Vive Mobility Rollator is a comfortable mesh, with a lightly padded backrest.
Vive has equipped its product with a large storage pouch at the front. We also like the fact that it folds quickly for convenient transporting.
However, the 8″ wheels may not offer enough maneuverability as you expected.
Pros
Dual braking system
Lifetime guarantee
Reasonable price
Cons
No safety armrest
Easily able to fall out
7. GOPLUS 2 in 1 Folding Rollator Walker – Great Value
#Affiliate links.Last update on 2023-06-10 at 00:59
This is another cost-effective option that we can't wait to recommend to you.
Support up to 300 lbs, this rollator transport chair combo fits most users. Padded seat, storage bag, umbrella holder, it embraces all the necessary functions.
You can control your movement by locking the brakes when stopped. Another pro is that the elderly citizens can adjust the height of the rollator's handles.
Many people like this combo because of its reasonable price, how lightweight it is, and the simplicity with which you can maneuver yourself through tight spaces.
However, the 8″ wheels are not big enough for rough terrain and the stitching of the seat is weak.
Pros
Lightweight: only 21lb
Reasonable price
Comfortable
Easily maneuverable
Cons
The seat is low-quality.
No cup holder
The wheels are not big enough.
Essential Features of a Rollator Transport Wheelchair
Ease of Use
Just like other mobility aids, it should be easy to use, where all you have to do is sit or stand, and you're comfortable.
Find one with handles that adjust for your height, and is quick and simple to alter. A suitable chair should come ready to go and transform from a walker to a wheelchair without any special tools.
Any part that requires a tool could end up being a hazard or a pain to adjust if you're traveling and don't have the tool to hand.
Storage
Storage space is a significant consideration. You can carry everything from your phone to groceries when out and about. The last thing you want is to have bags hanging from your chair or multiple trips to the corner shop for essentials because you can't carry everything at once.
Handbrakes
A suitable rollator transport chair should have efficient handbrakes. Handbrakes allow you to control your rollator on sloped terrain. You can slow down the rollator on steep declines, and this will prevent you from slipping out if sitting or speeding up if you're walking.
Other Considerations When Buying a Combo
Consider the quality of the build. The last thing you want is a device that breaks apart while you are using it. You might pay more for a high-quality rollator transport chair, but it will be sturdier and remain safe to use for a long while.
Features should include firm chair padding, quality wheels, handles and brakes, and a high weight capacity limit.
Finally, Before you purchase a new mobility aid, what does the future hold?
Your immobility may be short-term, or you may require a quality product that will last a few years. Talking to a doctor before you buy will help you determine precisely what your future requirements can be, instead of guessing and making the wrong choice.
FAQ's
Can You Use a Rollator as a Wheelchair?
The short answer is no. You cannot use a rollator as a wheelchair. However, Some rollators can convert into wheelchairs. This functionality can be beneficial, especially if you regularly need to take a rest. 
We recommend a rollator with this feature. They usually cost a little more but are definitely worth the investment. Also, the two-in-one combo products are generally of higher quality in comparison.
Does Medicare cover rollator transport chair?
Medicare Part B covers any personal walker. rollator transport chair combo are in that group, so they are covered by Medicare. 
In most cases, Medicare will cover 80 percent of the price of a new rollator or walker. The requirements are that a doctor has medically prescribed it and that it comes from a Medicare-associated supplier. Medicare does not cover unprescribed rollators or any other walking device. You can find more details here.
Who Should Use a 2-in-1 Rollator Walker & Transport Chair?
Rollator transport chair combos help maintain an active lifestyle and provide a solution for patient transfer at the same time. Anyone developing poor balance, lower limb weakness, or having trouble standing for long periods should consider using this model. 
Conclusion
When mobility becomes problematic, a rollator can be life-changing—giving the user the ability to get out and about.
The best rollator transport chair on our list is the Drive Medical Duet . This has all the features you could or want or need—with a comfortable seat and handles, reliable hand brakes, two in one rollator and wheelchair conversion, and a great price.
The Drive Medical Nitro Duet Rollator Wheelchair came in a close second—we only marked it down because it is expensive. It is well-built, sturdy, and can make tight turns, perfect for day to day use in stores or outings.
Hopefully, the information we've provided here will guide you to choose the best rollator transport chair to fit your needs most suitably.