Showering and bathing is an essential part of daily life. As you age, your body isn't as flexible as it once was, making it difficult to get in and out of the bath. Therefore buying yourself a walk-in tub could be an important thing to do.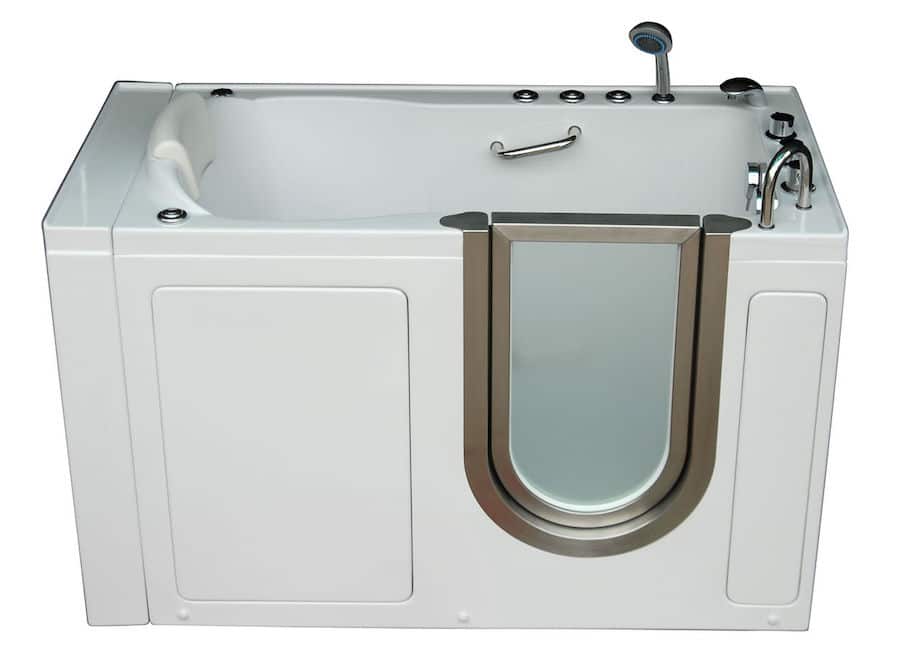 We have devised the best walkin bathtubs reviews with the ANZZI Walk-In Wide Bathtub being our favorite choice. It has 12 whirlpool jets, colored lights, and has all the safety essentials.
Best For Luxury
ANZZI Walk-In Tub 27" x 53", Right Drain, with Air Jets...
Best For Safety
Empava EMPV-WIT373 52.5" Acrylic Freestanding Walk-in...
Best For Budget
CleanCut Convertible Bathtub Accessibility Kit -...
Best For Luxury
ANZZI Walk-In Tub 27" x 53", Right Drain, with Air Jets...
Best For Safety
Empava EMPV-WIT373 52.5" Acrylic Freestanding Walk-in...
Best For Budget
CleanCut Convertible Bathtub Accessibility Kit -...
#Affiliate links.Last update on 2023-09-22 at 02:55
What Are Walk-In Tubs?
Walk-in bathtubs allow seniors to access their tub via a door — eliminating the need to step over the bath. These walk-in bathtubs for seniors also come with built-in seats to improve comfort and make it safer to wash.
Best Walk-In Bathtubs for Seniors Reviewed
Are you looking for a walk-in bathtub to install in your home or for a loved one? We've scoured the internet for a versatile selection based on size, materials, measurements, and additional features.
1. ANZZI Walk-In Wide Bathtub — Best for Luxury
#Affiliate links.Last update on 2023-09-22 at 02:55
This bathtub measures 52.5 x 26.5 x 40 inches with a low 4-inch entryway.
The Anzzi bathtub features 12 whirlpool massage jets and 18 air jets to offer a relaxing experience. As a result, you can soothe any aching joints or simply experience a calming bath and wash away your daily stresses.
This bathtub comes with an in-line maintenance heater to maintain the water temperature at a comfortable and safe level. This allows you to stay in the bath for as long as you want without the water becoming cold.
Another great feature is the colored lights built into the bathtub for extreme luxury. The colors adjust according to the massage setting you have at the time, and all colors are soothing.
For a modern flair, this walk-in bathtub has polished chrome buttons, jets, and hardware — further adding to the product's luxury.
The bathtub is also fitted with a digital control pad where you can adjust the temperature, lights, and jets, for easy access.
Pros
Low entry threshold.
Built-in safe reach grab bar.
Slip-resistant textured flooring.
Takes around 45 seconds to drain water fully.
Includes a handheld showerhead.
Freestanding steel support frame for security.
Cost-effective.
Cons
Takes a while to fill with water.
2. Ellas Bubbles Massage Whirlpool Walk-In Tub — Best Largest Bathtub
#Affiliate links.Last update on 2023-09-22 at 10:47
This deluxe walk-in bathtub measures 55 x 30 x 37 inches, making it the longest on this list and perfect for those with a spacious bathroom. It's also 37 inches tall, enabling you to have a deep soak in warm water.
There's an air-flow intensity control dial so you can adjust the settings to suit your needs. Plus, with a 12-jet hydrotherapy system, you'll experience a relaxing sensation that soothes away any aches. With an in-line water heater, your water stays warm the entire time you're in the bath.
It has removable head and neck support so that you can relax against the side of the bath with no discomfort.
To keep you safe while stepping in and out of the tub, it's kitted with a textured slip-resistant floor. Plus, the low step-in threshold only requires a small step to enter and exit the tub.
Pros
Features stainless steel grab bars.
Removable rubber backrest.
In-line water heater.
Easy to push control panels.
Cons
Takes 80 seconds to drain the water completely.
3. Empava Acrylic Walk-in Tub — Best for Safety
#Affiliate links.Last update on 2023-09-22 at 02:55
The Empava walk-in tub measures 52.5 x 26.5 x 40 inches and is available in a white glossy finish.
We awarded this best bathtub for safety thanks to all of its features. The tub has a textured floor throughout to prevent you from slipping in the bath upon entry and exit and has more texture than the other options on the list.
The low threshold door makes it safe for entry and exit without having to take a large step.
On multiple areas of the bathroom are built-in handles to ensure you have something to grab onto in times of need. These handles are large and placed in three locations, so you have extra stability when sitting or standing.
It's fitted with an additional left drain to prevent any overflows — improving your safety and reducing accidents.
This walk-in bathtub is comfortable, and the integrated seat is much lower than others on this list, enabling the water to reach shoulder-height which is great for seniors and people with disablities.
Pros
Cushioned shoulder and neck rest.
Extra-wide door.
Sturdy lock on the door.
Shoulder-height depth for a relaxing soak.
Cons
4. American Standard Gelcoat Value Whirlpool — Best for Quick-Draining
#Affiliate links.Last update on 2023-09-22 at 10:47
This bathtub measures 52 x 32 x 40 inches and fills up completely in less than two minutes.
A walk-in bathtub that's quick-draining is ideal because it reduces the amount of time you have to remain seated in the bath before getting out.
The patented design swiftly removes water in around 20 seconds for minimal waiting and doesn't require any additional plumbing. Compared to the other walk-in bathtubs on this list, it's the most efficient option to prevent you from unnecessarily waiting around.
This bathtub is highly versatile for a range of bathroom sizes. Your purchase includes a tub extender as it's one of the shortest on our list, yet it can also accommodate larger spaces.
It's geared for safety, thanks to the chair-height seat, grab bar, a textured floor to prevent slippages, and a low threshold, making getting in and out safer.
For a relaxing soak, it's kitted with six water jets and a control panel to adjust the settings to your preferences.
Pros
Drains completely in 20 seconds.
Features an in-line heater.
Contoured seat for comfort.
Option to use normal or power drain.
Simple to operate the settings.
Cons
Jets aren't powerful on your back.
5. Ella L-Shape Bathtub — Best for Jets
#Affiliate links.Last update on 2023-09-22 at 10:47
The bathtub measures 30 x 52 x 42 inches with a 22-inch wide seat.
If a bath isn't just an essential item to remain hygienic but a place to relax and unwind, the Ella L-Shape Bathtub makes a great choice. It's fitted with 16 air-therapy jets — the most on this list — each of which targets the entire body to help soothe any aches and pains.
Specifically, the jets deliver a therapeutic massage to the hips, legs, feet, and lower back — a great feature for seniors. You control these settings via the digital control panel. It's easy to use, with no confusing buttons, making it suitable for technophobes.
It's easy to clean, thanks to the white acrylic shell reinforced with fiberglass. This scratch-resistant material is also non-porous — making it resistant to mold build-up. The stainless-steel frame is also rust-proof, enabling the bathtub to remain durable and long-lasting.
Another top feature is the heated seat that allows you to remain warm while taking a bath.
Pros
Has 16 air-therapy jets to relax.
Retractable 5 foot handheld showerhead.
Rust and scratch-resistant materials.
Digital control panel is easy to use.
Features two drains.
Cons
No handle on the right-hand side.
6. CleanCut Convertible Bathtub — Best for a Budget
#Affiliate links.Last update on 2023-09-22 at 10:47
The CleanCut Convertible Bathtub is an accessory that you install into your bathroom's current bathtub to allow seniors to use the bath via a door.
It's a budget-friendly product, so you don't have to purchase an entirely new walk-in bathtub — a great idea for those living with others.
To use the product, you'll need to cut a portion out of your current bathtub — which may require professional assistance. The kit comes with everything you need to install the new door, including removable insert locks, helping to further save you money in the long run.
Pros
A budget-friendly option.
A quick-fix solution.
Suitable for those with non-seniors in the household too.
Cons
Not suitable for all bathtubs.
Likely you'll need a professional for the installation.
The Benefits of Using a Walk-in Bathtub for Seniors
So what are the key benefits of these walk-in bathtubs, and how can they improve a senior's life? Here are some of the top benefits of owning one.
Helping with Mobility
If you have mobility issues, getting in and out of a traditional bath and shower can be difficult. Fortunately, walk-in bathtubs for seniors have a low step threshold, measuring no more than a few inches, making entry and exit convenient.
Walk-in bathtubs for seniors also have handles to help you get in and out and have something to hold onto if you become unstable.
With a built-in seat, you don't have to sit down on the floor where you could then encounter issues with getting back up or install an extra bath lift. These seats allow you to keep clean and prevent any immobility issues. Many also have different heights so you can still get the sensation of a relaxing soak while sat down.
Convenient Cleaning
If you're a senior, cleaning a bathtub or shower can be difficult and painful. Fortunately, walk-in baths are convenient to clean and prevent you from bending down at awkward angles, potentially putting your safety at risk.
Many of these models aren't deep or large, so there's minimal space to clean. They're also designed without any hard-to-reach places to make the process less grueling. Some of the best selections also have a self-cleaning action. This involves filling the bathtub with water and a cleaning product, then selecting the self-clean setting.
Hydrotherapy
You'll notice that most of our best walk in bathtubs for seniors have air and whirlpool jets. These jets are designed to massage away any aches and pains that most seniors are prone to.
Submerging yourself in warm water with jets reaching all areas of your body can relax any tight muscles and eliminate any joint pain. Hydrotherapy can also help with back pain, arthritis, and many other common conditions that seniors experience.
What Are the Different Types of Walk-In Tubs?
We've included a variety of walk in bathtubs for seniors, but below are the most popular designs.
Hydrotherapy Tubs
This type of walk-in tub comes with numerous jets to massage your body. These are located in areas where people experience aches, such as the back and lower legs.
Wheelchair Accessibility Tubs
These bathtubs are for wheelchair users with adequate space to get in and out of the bath, such as a wide door that swings open. This bathtub will also have a built-in seat with grab bars available for safety.
Chromatherapy Tubs
Chromatherapy tubs feature colored lights to create a relaxing ambiance while bathing.
Combination Tubs
These are the most versatile as they're a combination of two or more of the tubs above, such as having a built-in seat, wide door, and jets.
What to Consider When Buying a Walk-in Tub for Elderly People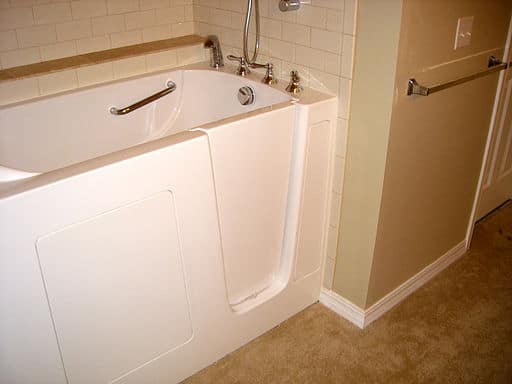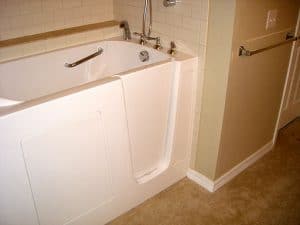 Now that you're aware of the benefits of owning a walk-in bathtub, here are some key features to consider to refine your search and choose the best option for your needs and budget.
Measurements
The first thing to consider is the measurements to ensure the bathtub will fit in your bathroom. Measure the amount of space you have and take to your supplier so they can choose the perfect size for you.
You should also consider the width of the door, depending on your needs. The water depth is an important consideration, too, as some seniors prefer a deep bath. Check that the built-in seat is a suitable height and has a good width for your size.
In-Line Water Heater
If keeping the water at a sustained temperature is an important feature for you, consider a walk-in bathtub with an in-line water heater.
This allows you to enjoy a long soak without the water becoming cold. You should expect to pay extra for this feature, and the bathtub will typically come with other options, too, such as colored lights, jets, and a digital control panel.
Draining Time
To prevent your bathroom from flooding, you'll need to wait for the water to drain out before you exit the bathtub. You don't want to sit there for ages waiting until it's all clear, which is why many of the top tubs have a quick-draining technology.
Anything below two minutes is adequate time, and the bath will have several drain plugs to remove the water quickly.
Safety Features
Your safety is vital, so look for a bathtub with handles, the more there are, the better support you'll have to remain stable. You should also consider where these are placed for your convenience.
The walk-in tub should have a low threshold to prevent you from having to step high before entering or exiting.
Also, consider the materials and grip used on the bathtub's surface. Most are fitted with anti-slip materials, so you're not at risk of falling upon entry and exit.
You may also wish to purchase a bathtub with a handheld showerhead to prevent you from stretching to clean yourself.
Jets
Not all walk-in bathtubs have jets, but the majority do. Consider if this feature is essential for you, particularly if you're prone to aches and have arthritis.
Look at the number of jets available and where these are placed in the bath. If you experience back pain, you'll require jets placed around the seat. Generally speaking, the more jets offered, the higher your budget needs to be.
Conclusion
We're proud to showcase the above six options in our walkin bathtubs reviews, though, deciding on your favorite can be a difficult process.
Our top choice is the ANZZI Walk-In Wide Bathtub. With 12 whirlpool massage jets and 18 air jets, you'll leave the tub feeling relaxed and ache-free. The colored lights add an element of luxury, encouraging you to dim your bathroom lights and take some time out for yourself.
The Empava Acrylic Walk-in Tub has the lowest seat on the list, enabling you to enjoy a relaxing soak without the position impacting your experience. It's also kitted with a cushioned shoulder and neck rest so you can relax without any neck pain or discomfort.
(Featured image by Ella's Bubbles LLC and we made some modifications)