If you are concerned about your elder family members who live alone, then you must have thought about making their kitchen life easier. It can be done by buying a senior-friendly microwave but it is not an easy task.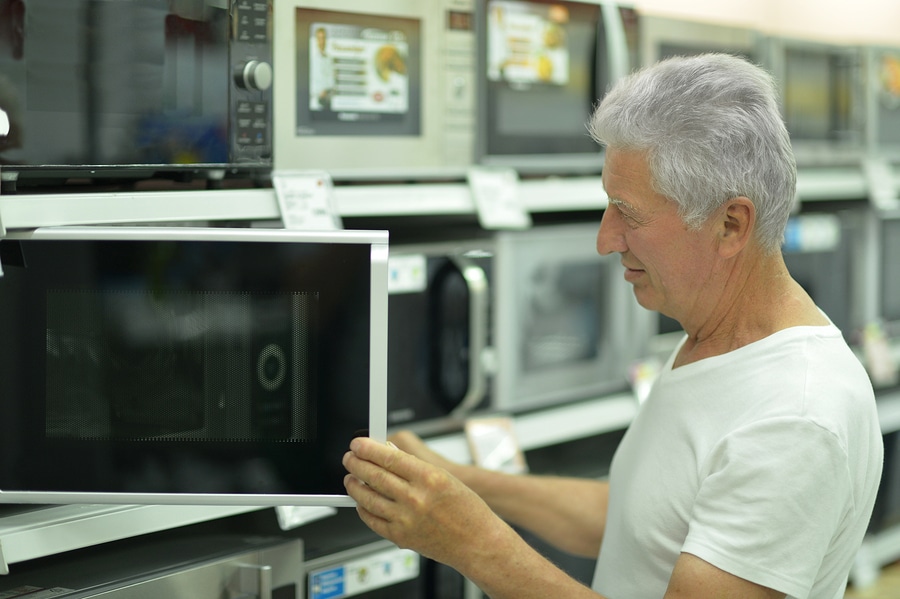 You would definitely want a microwave that is easy to operate, with big numbers, and safe for your elders. Don't worry, we have it all for you, this article will help you choose the best microwave for seniors that will meet your needs.
Our Top Picks
The Counter Top microwave comes with 2 big knobs, very simple to use and cost-effective, but there is no any pre-programmed settings. The Nostalgia RMO4AQ Retro is more intelligent and powerful and the display number is large but if you are a senior who in a small space, then the one from COSTWAY will fit you well.
Best Budget Option
COMMERCIAL CHEF 0.6 Cubic Foot Microwave with 6 Power...
Easy To Use
Nostalgia Retro Countertop Microwave Oven - Large...
Best For Small Spaces
COSTWAY Retro Countertop Microwave Oven, 0.7Cu.ft,...
Relatively low price, two big knobs, very easy to use
Beautiful appearance, easy to handle buttons, big LED display, 12 pre-programmed cooking settings, 800 watts
Compact design, auto cooking functions, pull handle
Best Budget Option
COMMERCIAL CHEF 0.6 Cubic Foot Microwave with 6 Power...
Relatively low price, two big knobs, very easy to use
Easy To Use
Nostalgia Retro Countertop Microwave Oven - Large...
Beautiful appearance, easy to handle buttons, big LED display, 12 pre-programmed cooking settings, 800 watts
Best For Small Spaces
COSTWAY Retro Countertop Microwave Oven, 0.7Cu.ft,...
Compact design, auto cooking functions, pull handle
#Affiliate links.Last update on 2023-12-02 at 11:58
Best And Simple Microwave For Elderly: Reviews
You must be wondering where to find all these elder-friendly features in a microwave. Don't worry! Below are the reviews for the best microwave for the elderly.
1. Counter Top Rotary Microwave Oven- Best Budget Option
#Affiliate links.Last update on 2023-12-02 at 11:58
This microwave by Westinghouse is a kitchen appliance that every senior will definitely love because of its simplicity and ease of operation. It comes with a 0.6 cubic foot interior capacity which can accommodate dishes or foods up to 9.5 inches.
The product dimensions are 17.8 x 12.5 x 10.2 inches and weigh 23.1 pounds. The design is very simple and easy with a lightweight comfy-grip handle that is perfect for seniors.
For convenience, there are two mechanical knob dial controls, both intuitive with power levels of 6.
As a result, it is really easy for seniors to use even with reduced vision as there are no buttons to press from the panel. Just turn the knob and cook your meal easily.
These power levels are suitable for cooking or heating many kinds of foods including beverages.
High power options can be used to heat frozen foods. It also features a 30 minutes timer that is totally safe. This sturdy microwave requires the slightest cleaning; the glass turntable is removable and can be washed in the dishwasher.
When the food is ready, it indicated with a bright light and loud ding. Seniors don't need to worry about any malfunctions as there are no displays or any electric buttons which makes it an easy to use appliance.
Pros
Easy rotary knob dials
6 power levels
Durable construction
Easy-grip handle
Low maintenance
Cost-effective
Cons
Slippery feet
No option for adding 10-30 more seconds
2. Nostalgia RMO4AQ Retro Large Countertop Microwave – Easy To Use Microwave
#Affiliate links.Last update on 2023-12-02 at 11:58
If you are looking for some items to beautify your counter space, this microwave is what you need. This senior-friendly microwave comes with a retro-style appearance and very easy to use.
Featuring 12 pre-programmed cooking settings, an elderly person could choose the models by turning and pushing the big dials on the side panel. The 4 buttons below ensure you could control the process with only 1 or 2 presses.
What's more, the LED display shows large numbers so that you can tell the time and models with a breeze.
This microwave comes with small footprint, however, with 800 watts power, the meal will be heated evenly and quickly.
Pros
Space-saving retro-style design.
Powerful – 800 watts
12 Pre-programming settings.
The pull handle is good for those with arthritis.
The led display is easy to read.
Cons
The writings around the buttons are small.
The interior space is limited.
3. COSTWAY Retro Countertop Microwave Oven – Best For Small Spaces
#Affiliate links.Last update on 2023-12-02 at 11:58
This microwave would be a great choice for seniors who live in tight spaces. The overall size is 18″×14″×10″(L×W×H), allowing you to place it on the small counter.
It comes in a few colors, but we think the white one is the best as the contrast helps with visibility.
We like the retro-style appearance but it will not sacrifice any modern features at the same time.
The 6 buttons on the side panel come in handy. You can start, stop and change the power. It even includes an auto cooking button to simplify your cooking process.
The child lock button is a nice touch in case seniors live with their grandchildren together.
We also love the big knob for time setting and pull handle to open the door. These will benefit seniors who are lack dexterity or with arthritis.
Pros
Beautiful retro-style appearance.
Easy to use buttons and handle.
Auto cooking functions
Compact, great for small spaces
Cons
Small writings.
It may move when you pull or push the handle.
4. Samsung MS11K3000AS 1.1 cubic. ft. Countertop Microwave Oven – Best With Pre-programming Options
#Affiliate links.Last update on 2023-12-02 at 11:58
This smart microwave by Samsung comes with many features that will make cooking extremely easy for all the seniors. It has sensor options which detect the type of food and the time required to heat your meal even if its soup or a frozen pizza.
The sensor cook option will give you a perfectly heated meal. The product dimensions are 20.4 x 16.9 x 11.7 inches while it weighs 31.9 pounds.
Seniors will enjoy the evenly cooked food with the 3 distribution heat system. Also, the controls are easy to use with a dial to increase or decrease the heating time.
Seniors with decreased vision will have the benefit of seeing the large and easily visible display with bright LEDs. Also, it has an interior capacity of 1.1 cubic ft. allowing you to cook many different snacks and meals with no trouble.
No need to worry about electric bills, this microwave is not like other microwaves that use power even at rest. Moreover, it comes with an eco mode which turns off the display when it is not in use.
It has a polished ceramic interior that is totally scratch-resistant. Therefore, seniors have the advantage of easy cleaning. The polished surface also makes it easy to clean all the dirt and oil grease that accumulates from daily usage.
Pros
Ceramic polished enamel interior
Easy to clean
3 distribution heat system inside
Sensor cook technology
Easy dial control
Bright big LED display
Eco mode for power conservation
Scratch and rust-resistant
Modern and stylish look
Heats and cooks food effectively
Pre-programming options
Cons
The writing is hard to read for seniors with visual impairment.
5. Sharp R-21LCFS Medium-Duty Commercial Microwave – Best Durability
#Affiliate links.Last update on 2023-12-02 at 11:58
This medium-duty microwave by Sharp is an ideal choice for the seniors as it is easy to operate. Not only does it come with a classic dial style knob but the timer can be set starting from 10 seconds up to 6 minutes.
Moreover, the LED indicators are bright enough to be seen by the elderly with reduced vision. The interior of this microwave is very spacious having a capacity of 1.0 cu. ft.
As a result, it can accommodate different pan sizes and single-serving meals or packaged foods. The product dimensions are 20.5 x 16 x 12.1 inches and weigh 44 pounds.
This microwave is equipped with an auto-cancel feature which stops the microwave when the door is opened. Elders will find it very easy to clean as it has a stainless steel grey interior and exterior.
Furthermore, all the instructions and menu is printed on the side panel for easy settings. A recommended timer is there to heat a variety of foods that are marked with convenience increments.
This is a commercial microwave, but it is also a good choice of the microwave for a senior that is built to last.
Pros
Stainless steel interior and exterior; rust-free
It has a latch handle
Timer with increments
Solid and sturdy; durable
Spacious
Easy to operate and clean
Quick start with just one dial
Cons
Timer limited up to 6 minutes
No option to see remaining time
No rotating plate
Expensive
6. Panasonic NN-SD775S Cyclonic Wave Microwave – Powerful Microwave
#Affiliate links.Last update on 2023-12-02 at 12:11
The new cyclone wave microwave by Panasonic is an incredible microwave for the elderly with a very spacious interior capacity of 1.6 cubic ft or 2.2 cubic ft. which allows easy and quick cooking.
It provides the heating power that preserves all the nutrients as well as flavors in the meals. Since it has a power of 1250 watts, elderly can enjoy fast cooking times.
The product dimensions are 19.4 x 21.9 x 12 inches and weigh 31.1 pounds. Moreover, it has a dial timer and quick operation buttons both.
Most importantly, the cyclone technology allows the heat to simmer without being burnt or overcooked as cyclonic wave precisely circulates heat.
The inverter technology provides a constant flow of cooking energy at all temperatures giving you more uniformly cooked food.
A smart cooking sensor creates delicious foods by setting the power levels automatically. The sensor also adjusts the cooking and freezing times.
It is a more automatic microwave for seniors, however, if you have difficulties in dealing with buttons or opening the door with push buttons, this one may not make you satisfied.
Pros
3D cyclonic wave technology to heat food evenly
Inverter technology
Smart reheat sensors
The Turbo defrost preserves nutrients, texture as well as flavors of food
Easy to use
Very spacious for large-sized dishware
Cons
A bit difficult for some older adults to use the push button to open the door.
It is expensive
7. Toshiba EM245A5C-SS Microwave Oven with Inverter Technology – Easy To Clean
No products found.
This is a 1200 watt microwave by Toshiba with a great interior capacity of 1.6 cubic feet and 13.6-inch turntable for even cooking. The product dimensions are 21.8 x 19.2 x 13 inches while the product weighs 28.9 pounds.
Its interior consists of stainless steel. No starches and rust! As a result, seniors will have no issue cleaning it.
In addition, it is equipped with the iNVERTECH technology which evenly heats and defrost making tasty food without burning or overcooking.
The glass turntable is removable and you can wash with a dish cleaner to avoid the buildup of grease and dirt.
Moreover, sensor buttons allow you to cook optimally the six most popular foods by pressing a button and choose from the ten power level options.
The big digital display having a clock function shows both the countdown timer as well as the remaining cooking time. The large numbers
Seniors can open or close the microwave door easily with a big and easy-to-hold handle.
Pros
Inverter technology for even heating
Spacious interior
Stainless steel exterior; easy cleaning
Smart sensor cooking feature
Easy control panel (digital)
Easy grip large handle to open microwave's door
Safety lock feature for children
Bright LED light interiorly
Cons
No warranty or owner's manual
No sound on/off feature
Why Seniors Need a Microwave?
It is an obvious fact that elders also need nutrients to stay healthy and fit. But, what if they are living alone and have no one to cook the food for them.
This is the situation where a microwave is most useful for the elderly. It is an easy and most convenient way for elders to prepare their meals.
Electric stoves and hobs are a bit difficult to use by elders. These devices also require more energy, effort, and time.
Microwave ovens are also beneficial to those elders who have disc or joint problems and can't stand for long hours in front of the stove to cook their meals.
Microwave cooking also ceases the need for heavy heating pans that elders find it difficult to handle.
Low risk of being burnt when using a microwave. This saves elderly people from stove burns and extreme heat environments. They can cook their desired food easily without requiring any heating stoves or cookware.
Most of the utensils are microwave friendly and you can use them as serving bowls too.
What to Consider When Buying a Microwave for Seniors?
Not all models or types of microwaves are perfect for seniors. Keep in mind the following factors when choosing the best microwave for elderly.
Easy controls and buttons
The first thing you need to see is that a microwave has easy controls and buttons. Too many buttons or confusing control panel will make it difficult for elders to use.
Look for a microwave that has simple controls and buttons. We might appreciate too many features and advanced technology, but elders still prefer the knob control dial with easy turning.
Large number
Look for a microwave that has large writings and displays. It will make it easy for older adults to read the timer settings. This is really helpful for seniors with reduced vision. Also, it is advised to buy a microwave with bold printing on a white surface by avoiding the glossy base.
Handle: pull or push
The handle of a microwave is also a thing to be considered. It comes in a push or pull handle to open the microwave. It is advised to go for a pull handle as it requires less force and is much easy to open as compared to a push one. Push handle might be hard for seniors with arthritic or weak fingers.
Auto shut off
Auto shut off is an important feature to look for when buying a microwave for seniors. This enables the microwave to sense and turns off automatically when the meal is cooked. It prevents overcooking and burning of the food.
Loud dings
The microwave should have a loud sound to notify the seniors when the food is cooked or heated. They must be able to hear the sound in case they forget about their food in the microwave. This is important for seniors with hearing problems.
Wattage
If you like to enjoy a quicker and evenly cooked meal, then you should opt for a microwave with at least 800 watts. However, powerful microwave often comes with a higher price tag.
Size
For seniors who have a small counter, we suggest you check the dimensions. You should also check how many meals are needed to fit in the microwave
FAQ
What makes a microwave suitable for seniors?
A senior-friendly microwave often has easy-to-grip pull handle, big knobs, large numbers, simple control, as well as auto sensors and timers.
When should a microwave be replaced?
Generally speaking, a microwave should be replace after 10 years. However, if you find yourself or loved ones are developing some kinds of visual, hearing or other health problems, it is time to buy a simple senior-friendly microwave.
Bottom Line
All the microwaves listed above have many advantages for the seniors. Some seniors might prefer a microwave with a classical rotary dial, and others may like a digital dial.
For elderly with arthritis, it is good to have one with pull handle and dials and for seniors with impaired vision, microwave with big numbers would be a better choice.