The term senior citizen is often used to describe a certain subsection of society, but what exactly does it mean? Who exactly are the members of this group? Is there a cutoff age group that is clearly defined, or is there a gray area somewhere? Generally speaking, the target is an age range somewhere between 60-65 and typically implies a retired person.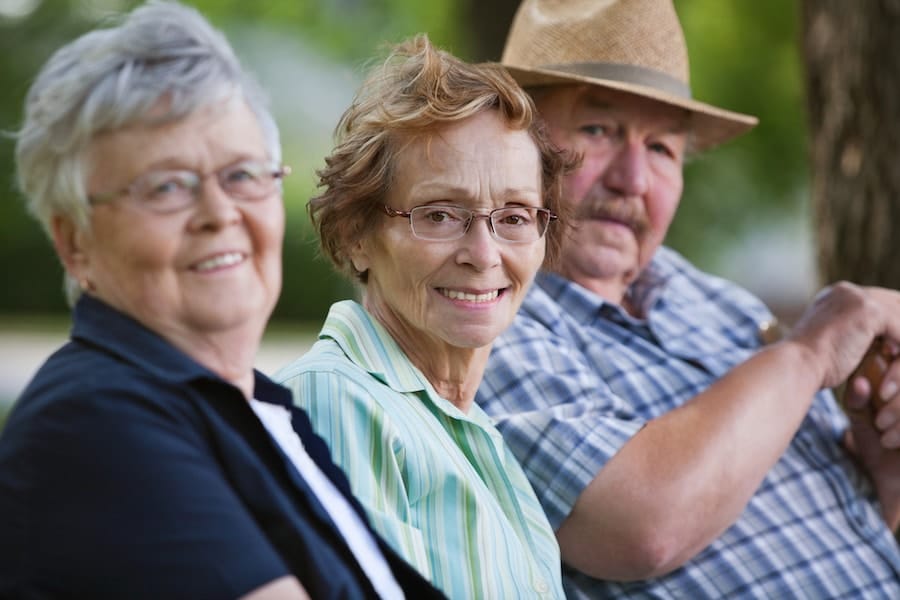 What Age Is Considered A Senior Citizen?
While it can vary based on whether they continue to work or not, the senior citizen age typically falls in the range of 60 to 65. However, the Social Security Administration recognizes senior citizenship once you turn 62.
What age is considered elderly? Well, it's based on average life expectancy. According to Social Security, the beginning stages of senior citizenship is 62 years of age. However, retirement doesn't officially begin until 65 under normal circumstances.
On the other hand, Medicare only considers a person 65 years and older a senior citizen. There is a wide range regarding the classification. In addition, many private companies offer special discounts to seniors that start as low as 55 years of age. There is no clear-cut definition of a senior citizen that everyone can agree on for sure. It's more like a loose range and general understanding.
Why Understanding the Senior Citizen Age is Important
Becoming a senior citizen is about more than qualifying for senior discounts or applying for Social Security. Vital considerations like setting up a legal will and executor of an estate are necessary precautions in this phase of life.
Older adults may need help with finances, legal issues, and day-to-day life. But choosing the executor of your estate is a big step. You should choose a responsible and trustworthy person to take control of your financial and legal affairs should you need them to.
Financial Concerns For Those Of Senior Citizen Age
In the past, people generally accepted that senior citizens were people who had retired from working life and could live the remainder of their golden years off pensions, Social Security, or investments. Today, this isn't always the case because many seniors choose to either keep working because they enjoy it or have not saved enough to quit working entirely.
Social Security benefits often do not provide enough financial support to maintain a comfortable lifestyle. Also, Medicare does not always cover the needed medical expenses for seniors who suffer from persistent medical issues. This situation is why senior citizens rely on savings and investments to carry them through these years and require comprehensive medical insurance that meets all their needs.
Different Programs And How They View Senior Citizens
There are several group associations and individual retirement plans seniors can take advantage of at retirement age. What is a senior citizen? How old is a senior? The answer to both of these questions is at least in part determined by senior citizen age organizations.
Social Security
Social Security benefits generally are available to seniors at the age of 66 or 67 (depending on what year they were born). If the government is the final arbiter of what constitutes a senior citizen, then 66 or 67 is the "official" age of a senior citizen. But 67 is the senior age if you were born after 1960.
Medicare
Medicare is distinct from Social Security in that it considers the senior citizen age to be 65 for purposes of obtaining Medicare benefits. Medicare is a government health care program for seniors that covers many things but falls short in other ways. Seniors must apply for this program four months before turning 65 to ensure that the program begins from their birthday.
Motor Vehicle Departments
Going to the Division of Motor Vehicles (DMV) is not usually enjoyable, but it can become more complicated as you get older. You may need to renew your driver's license more often, for example.
There are some solid reasons for this, of course. Slower reflexes, reduced vision, and other physical challenges can affect your driving habits. These factors can also affect your safety and that of other people on the road.
You can check your state's DMV regulations for seniors to understand what is required. Each state is different, but some do require seniors to come in person for a vision test at some point after age 65.
Retirement Plans
The most common plans for retirement age people are IRAs, Roth IRAs, and 401(k)s, which require that a specific minimum distribution of funds be given out at seventy and a half. The amount of distribution depends on the age, life expectancy, and savings of each senior citizen.
Retail Programs
There are quite a number of retail stores that offer discounts and programs for seniors. Marriott Hotels, Southwest Airlines, Hertz, and Denny's are just a few.
Car insurance companies also have their own senior citizen age designation, which is generally 65. At that age, premiums often increase since insurance companies view elderly folks as an increased risk. That said, seniors should certainly shop around to make sure they are getting the best rate and even take advantage of any discounts if they exist.
American Association Of Retired Persons (AARP)
This organization is undoubtedly a staple in the sphere of understanding age terminology and how it affects the elderly. According to the AARP, the age of eligibility begins at 50. The lower end of the spectrum as far as this age list goes.
Members can receive discounts on car rentals, hotels, online purchases, etc. Add to that list the AARP's powerful lobby for political and social issues related to seniors. The AARP also offers considerable resources in the form of publications, articles, and seminars that speak to concerns near and dear to seniors' hearts.
Choosing Between Senior Care Options
For some seniors living at home or with other family members is an option. There are several alternatives for others: from retirement communities with minimal care to assisted living facilities with constant care. Deciding which one is right for you depends on the level of care needed.
The number of choices on offer today is practically limitless. Just be sure to do the proper background check on any prospective facilities before committing to anything. This due diligence is crucial for yourself and the ones closest to you.
Each senior care center has different requirements and rules for entry (as well as price points), and you must read through contracts carefully. Perhaps even consult a lawyer to make sure you understand what the fine print says.
Seniors who are independent and only need minimal support at home can most likely continue to do so without any problems. If daily activities such as driving, cleaning, cooking, and paying bills are not a problem, then an active senior community is probably the best option. A senior community can be a good place to meet people in the same life phase as you. At the same time, it can help you stay active and social in your community.
Things do change, of course. Many seniors may prefer to age in place at home, but as they get older, it could become unsafe to continue living alone. The good news is that if you plan ahead, you can make sure your wishes are respected. It also means you'll get the care and help you want or need.
Seniors On Fixed Incomes
One of the principal features of folks of senior citizen age is they live on fixed incomes. Many seniors retire and either cannot or do not want to work, so they must rely on what they have. Many businesses offer discounts to help older adults stress less over their purchases.
Seniors should always be on the lookout for these discounts and patronize businesses that offer them frequently. It is an excellent way to thank those businesses for treating seniors as special and saves money too. A win-win for both! Even if shops do not advertise seniors' discounts, it's often worth asking just in case.
Many businesses will accommodate upon request, and there is a wide range of options for seniors: airlines, bookstores, hotels, hair salons, schools, and more. You can also check for special programs in your community. Some cities offer free bus passes for seniors, for example, while meal delivery service, like Meals on Wheels, is available in others.
Final Thoughts
The answer to who qualifies as a senior citizen most likely depends on who you ask. It can range anywhere from 50 years old up to 70 or more. There is no well-defined or clear-cut definition of what a senior citizen is or what specific qualities define him or her.
But knowing what the cutoff is, legal and otherwise, for senior citizen age will give you a better idea of what services and support are available to you. Though you might be getting older, there are plenty of things to enjoy about your golden years. Taking advantage of special senior programs and discounts is just one of them.