You may not look at stairs and see a hazard, but that's what stairs are for senior citizens. In a single year, over 12,800 people over the age of 65 died from falls, many of which involved staircases. In this article, I'll share stair safety tips for seniors.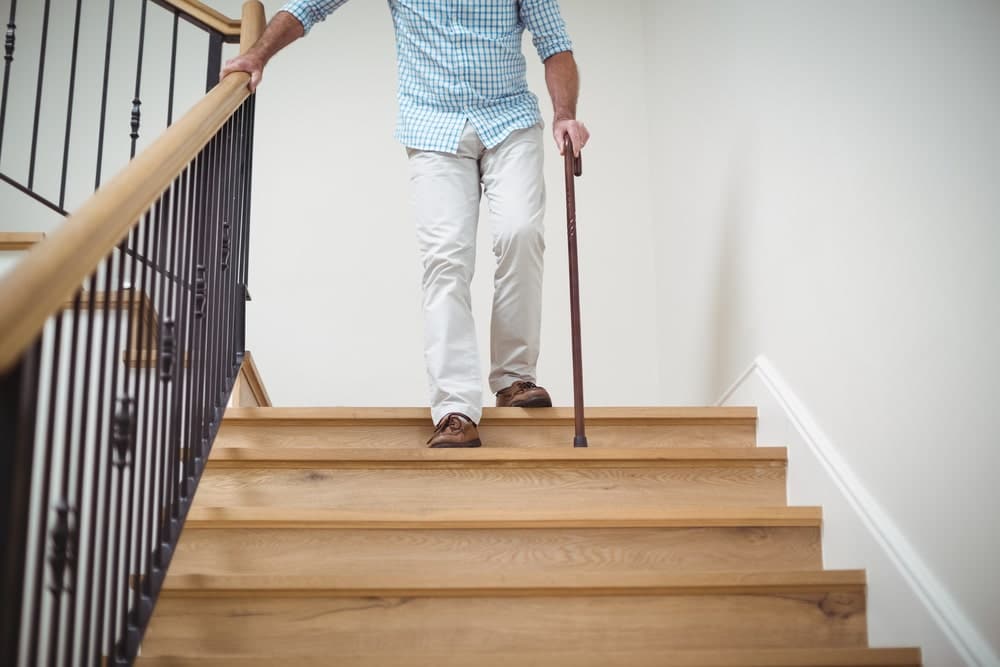 1. Clear the Path
Leaving a pile of clothes or items at the bottom of your staircase to bring upstairs might not seem like a big deal to you. However, it can have huge consequences for a senior citizen.
Likewise, dogs and cats cause 86,000 fall injuries per year in the United States. Of those falls, 88% of them are from dogs. That statistic isn't based solely on staircase falls, but you can see how a dog barrelling down a staircase could do significant harm to a senior person.
There are also under-the-radar situations that can prevent a clear stair path for the elderly. For example, stair carpet runners and stapled carpet coming loose can bunch up, causing a person to trip and fall.
In fact, falls in people 65 years and older came from a near-even distribution of carpets and rugs—54.2% and 45.8%, respectively.
Old stairs with dips obstruct the elderly from having a clear path up a staircase since they have to work around them or risk losing their balance.
2. Light Up
Proper lighting around a staircase is crucial for a person of any age, but especially for a senior citizen whose vision is likely poor from the get-go.
The elderly tend to struggle with depth perception. So, any shadows created by soft lighting could cause as many problems as no lighting. You can avoid depth perception complications by putting up overhead lighting.
Another option for improving the lighting around your staircase is by installing small lights on each step. Keep in mind, however, that these can still create shadows. So, a strong, clear light above the staircase is necessary.
To make the stairs as accessible as possible, you should install a light switch at your staircase's top and bottom. Even better, you can install motion-detector lights.
In the event of a power outage, you should have flashlights nearby—this is particularly critical if your elderly loved one lives on their own.
3. Get a Stairlift
Without question, the safest way for seniors to manage stairs is not to use them at all. In that case, you can help your elderly loved one bypass stairs by installing a stairlift.
An electric stair lift will carry a person up and down a staircase. They can accommodate straight or curved stairs, and installation takes no more than one day.
If you're worried about aesthetics, rest easy; stairlifts won't damage your walls. Furthermore, you can tuck them away so that other people can use your stairs as usual.
Although stairlifts are a safer alternative for seniors than managing the steps themselves, it isn't a foolproof solution. Injuries can happen with stairlifts, too. Thus, it's important to offer help to the elderly when they use a stairlift.
4. Add Non-Slip Strips
Modifying stairs for the elderly doesn't have to be complex; by adding non-slip strips to stairs, you'll be providing a safer environment.
You can apply non-slip strips to essentially any staircase that isn't carpet, and the strips are inexpensive. Once you've made your purchase, you'll need to clean your stairs. You can use a degreasing product if you'll be applying the strips to metal, tile, or concrete staircases.
Each non-slip strip brand will vary with its installation process. Typically the strips have a peel you'll pull back before setting the adhesive side against the stair. Your elderly loved one will be able to use the staircase shortly after you've applied the non-slip strips.
For more information about installing non-slip strips, I recommend watching this YouTube video.
5. Add Handrails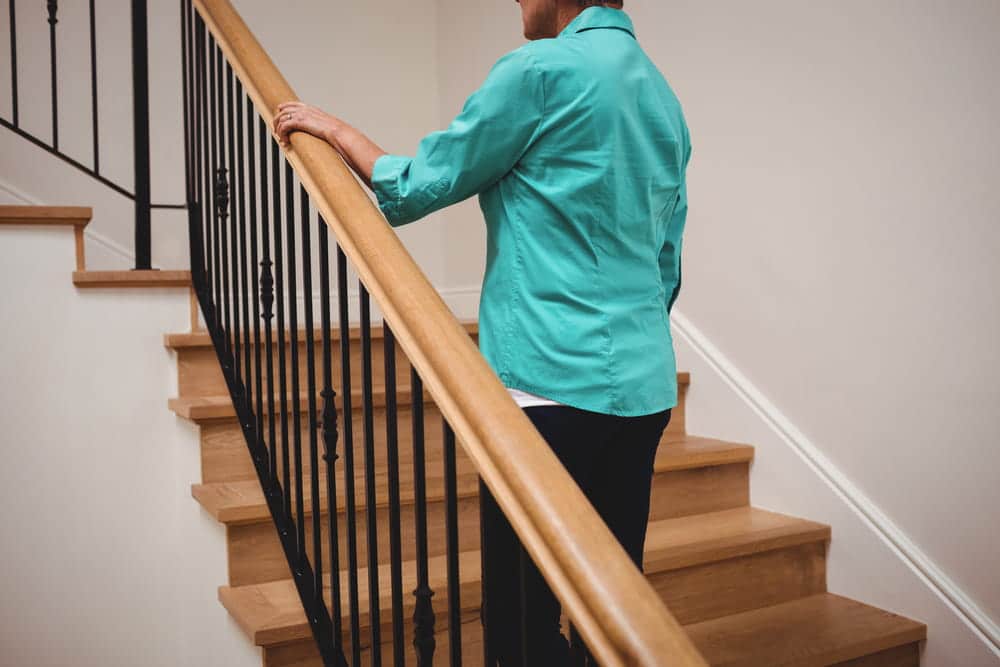 If your staircase has four or more steps and doesn't already have a handrail, it's violating the safety code.
Therefore, both you and your senior citizen will enjoy this section. Even if you have a staircase of three or fewer stairs, though, you should still install handrails if an older person uses them.
If you don't have experience installing handrails, this isn't the time to cut costs and try it on your own. The last thing you want is a person leaning their body weight into your staircase railing and it breaking from the pressure.
One factor to consider is whether the handrail should mount to a wall, the ground, or both. You'll also need to determine the run and rise to know the proper handrail length (unless, of course, you hire a professional to install it for you).
6. Add a Resting Spot
When researching how to make stairs safer for the elderly, one lesser-known idea is to add a resting spot somewhere along the staircase. Resting spots are most practical for long or steep stairs, as they offer ample space to catch one's breath.
If you decide to adapt your stairs with a resting spot, consider adding a seat. Often, when the elderly are exerting a lot of energy going up the stairs, they can overheat, which can lead to dizziness. And, of course, dizziness greatly increases the chances of a stair-related fall.
That said, adding a resting spot to an existing staircase involves some serious remodeling. The easiest way to add a resting spot is to do so during your stairs' initial construction.
7. Adjust the Rise
A stair riser refers to the angle of a staircase. Naturally, the steeper a staircase is, the more difficult it will be for seniors to climb.
It's not easy to make rise adjustments for all staircases. Generally speaking, wooden staircases with no structures built beneath them and plenty of space in the landing area are the best options for rising adjustments.
If you're not a mathematician, this YouTube video can guide you in the right direction with your calculations. Even so, though, you'll likely need to hire a carpenter to ensure a more flawless job.
Once your staircase is at a new, lower angle, make sure to adjust the handrail accordingly so that it extends the full length of the stairs.
8. Wear the Right Glasses
It's a proven fact that people over the age of 65 suffer from greater vision loss than those under 64 years old.
You can implement all the stair safety tips that I've shown you here, but if your loved one can't see well, their chances of a stair-related injury will increase.
To avoid a staircase injury, make sure your senior citizen is up-to-date with their eye appointments. Increasing their prescription or taking steps to control common age-related eye issues like glaucoma helps prevent stair issues.
If your loved one uses transition lenses (lenses that alternate between regular glasses and sunglasses, depending on the sunlight), make sure that they wait for their lenses to transition before attempting to climb any stairs.
9. Wear a Non-Slip Slipper
It's unlikely your senior citizen is trotting around in flip-flops. Even poorly fitted, close-toed shoes can cause harm on staircases.
You should make sure they have access to form-fitting shoes with rubber, non-skid soles. If the shoes have laces, make sure they're tightly tied. Slippers are even better because you don't have to worry about the laces coming undone.
When searching for a non-slip slipper for seniors, try to find one that's lightweight with a hexagonal tread pattern. It's also helpful if the slipper is water-resistant, especially if they'll be using it outside.
Keep a close eye on the wear of your loved one's slippers. As soon as you notice them becoming stretched out or changing shape, purchase a new pair.
Being proactive with elderly footwear can reduce the chances of them falling into the statistic of 84% of hip fractures resulting from falls.
10. Take Your Time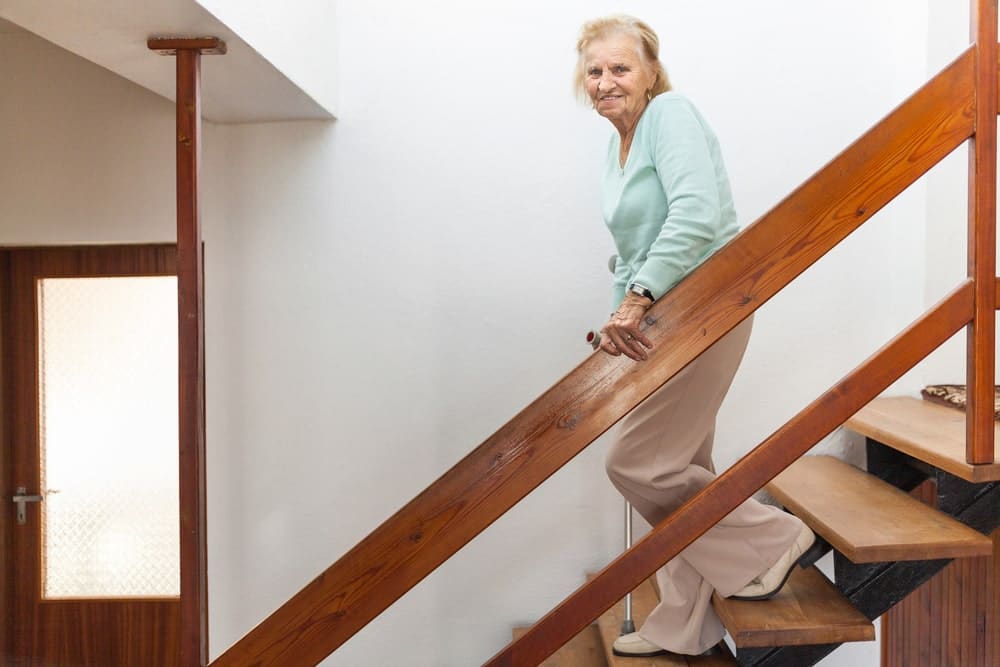 Finally, it's important to remind senior citizens to take their time when climbing up and down a staircase. Growing older comes with wisdom, but it can also come with the frustration of not performing easy tasks in the same way.
Equally important as the elderly taking their time with stairs, you need to take your time with your senior loved ones. In a study conducted by the American Psychological Association, signs show that becoming angry with a senior citizen could be more harmful to that person's physical health than the emotional impact of sadness.
By practicing patience with helping the elderly with stairs and making light-hearted conversation, you can make them feel loved and less self-conscious.
Conclusion
Did you enjoy these stair safety tips? Ensuring your stairs offer a safe environment for seniors is critical for preventing falls that could cause injury or death.
I'd love to hear your thoughts about this information in the comments section. If you enjoyed this article, please share it with those you know.