Mobility scooters are excellent solutions when it comes to maintaining independence and mobility in elderly people. Although there are heavy-duty options, suitable for various terrains, a lightweight option is optimal for easy transport and storage.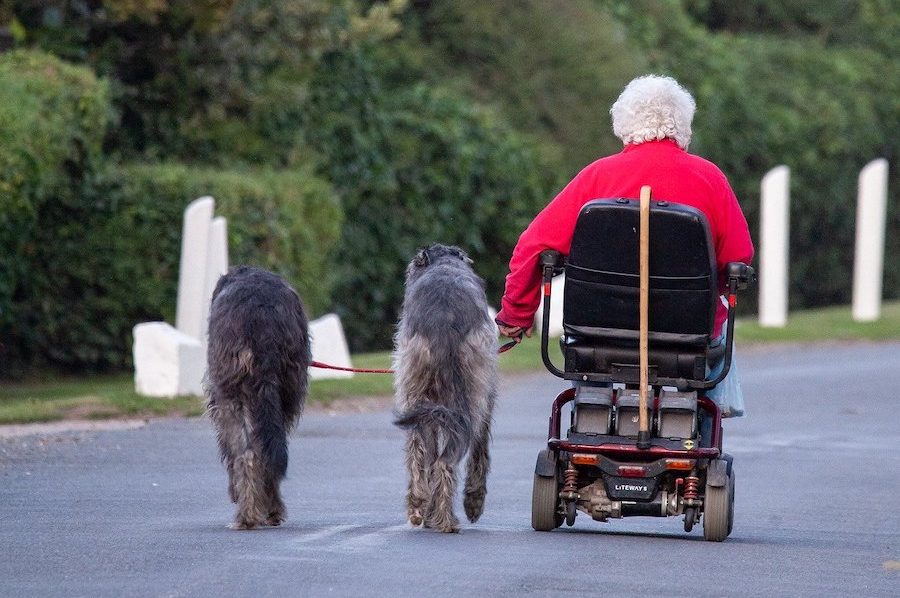 You can find hundreds of models in the market, one example is our top pick for the best lightweight mobility scooter: the Pride Mobility Go-Go Traveler.
In today's post, we discuss everything you need to know about these scooters.
#Affiliate links.Last update on 2023-12-02 at 21:10
Reviews: The Best Lightweight Mobility Scooters
Lightweight mobility scooters are sensible options if you live in the city or travel often by car. They're easy to maneuver and light enough for any helpers to carry without straining themselves. We've found seven of the best examples.
1. Pride Mobility Go-Go Traveler Elite Plus 4-Wheel Scooter — Best Overall
#Affiliate links.Last update on 2023-12-02 at 21:10
The Pride Mobility Go-Go Traveler is a lightweight alternative to Pride Mobility's previous options. It's effortless to transport and store as it disassembles into five pieces and has a total weight of 116 pounds. This scooter can carry up to 300 pounds and is sturdy.
It features Delta Tiller, an ergonomically designed wraparound handlebar that allows you to steer with one hand. Additionally, it comes with black, non-scuffing tires, a front frame-mounted seat post, and a front basket. For power, there's a dual voltage charger.
Pros
Disassembles effortlessly
Easy to transport and store
Delta Tiller handlebar
Wraparound handles are easy to use
Front storage basket
Easy to charge
Cons
The five-piece construction might not suit everyone
2. Vive 3-Wheel Mobility Scooter — Best For Long-Distance
#Affiliate links.Last update on 2023-12-02 at 16:44
With a range of 12.4 miles per charge, this mobility scooter from Vive is worth a look. It's designed to carry up to 265 pounds safely and comes with puncture-resistant, non-marking tires.
It has a tight turning radius, so it's suitable for use in shopping centers and grocery stores. The seat is comfortable with a padded backrest and at just shy of 17 inches wide, is roomy enough. There are also adjustable armrests for comfort.
You have full control thanks to the intuitive control panel. You can set the maximum speed, change to reverse, activate headlights, and more. From the same panel, you can also check the battery level on a color-coded display.
Pros
Good distance per charge
Tight turning radius
Non-marking tires
Foldable mobility scooter
Wide padded seat with back and armrests
Comprehensive control panel
Cons
The backrest may be too low for tall users
3. Travel Pro Premium 3-Wheel Mobility Scooter by Pride — Best For Travel
#Affiliate links.Last update on 2023-12-02 at 19:03
If you love traveling and are looking for an option to take with you, we recommend considering the Travel Pro from Pride. It's a lightweight option, featuring a three-wheel design and a decent range per charge. It can reach a top speed of four miles per hour.
It has a weight capacity of up to 275 pounds so it should suit the majority of users. It disassembles into five pieces when transporting or storing. Compact when collapsed, the Travel Pro is designed to fit into most cars.
What's more, it offers a smooth ride, with a tight turning radius, forward and reverse controls as well as puncture-resistant tires. The lightweight scooter has an adjustable-height padded seat, covered by faux-leather.
Pros
Foldable and lightweight
Reasonable top speed
Good range per charge
Easy to maneuver
Padded, adjustable seat
Cons
The scooter may tip on uneven surfaces, not for off-road use
Battery case comes loose easily
4. Drive Medical Scout Compact Travel Power Scooter — Best Four-wheeled Scooter
#Affiliate links.Last update on 2023-12-02 at 19:03
This four-wheeled option from Drive Medical is a sensible alternative if you're searching for more stability. The extra wheel aids balance, minimizing the chance of tip-overs. Still, you can go pretty fast with a top speed of around four miles per hour and a range of 15 miles.
To further boost stability, Drive Medical fitted the scooter with anti-tip wheels and non-marking, puncture-resistant tires. The ergonomic throttle control is simple to use and requires only one hand.
At the front, interchangeable color panels hide scratches and scuffs. The seat is adjustable and includes a swivel function for easy twisting.
Pros
Stable construction
Powerful battery with a 15-mile range
Ergonomic throttle
Adjustable seat with a swivel function
Cons
The turn radius is wider than other options
Difficult to assemble
5. Glion SNAPnGO 3-Wheel Mobility Scooter — Best Ultra Lightweight Folding Option
#Affiliate links.Last update on 2023-12-02 at 22:35
The Glion SNAPnGO is an ultra-lightweight foldable mobility scooter. A portable option, it's perfect for those who travel by car. It folds effortlessly and can fit into the back of most cars. Unfolding is easy, too: step on the pedal while raising the T-bar and it snaps into place.
The seat offers excellent comfort—it's broad and includes cushioned padding, a comfy backrest, and armrests. This seat is interchangeable. You can choose to purchase a compatible saddle-style seat for a bicycle-style ride.
A durable scooter, it's capable of carrying up to 300 pounds and boasts a range of 12.5 miles per charge.
Pros
Easy to fold and unfold
Wide, padded seat
Weight capacity of 300 pounds
12.5 miles range
Bike-style seat option available
Cons
The speed slows when approaching the full weight capacity
Not ideal on inclines or slopes
6. Shoprider Echo 3 Wheel Scooter — Best For Shopping
#Affiliate links.Last update on 2023-12-02 at 16:44
If you want something light and easy to take with you while running errands, we suggest looking at the Echo 3. This option is one of the lightest mobility scooters on this list, with the heaviest part checking in at 35 pounds.
Shoprider designed this scooter to have an extended range of up to seven or eight hours, depending on the surface. It includes a standard, quick-connect battery pack as well as solid tires and a basket for storage.
A great feature is a height-adjustable seat, you can set it according to your needs to minimize strain on your back.
Pros
Sharp turning radius
Longe range suitable for a day out
Durable
Adjustable seat height
Cons
The seat is less comfortable than others reviewed
Charging cable could be more durable
7. EV Rider CITYRIDER — Fast Speed
#Affiliate links.Last update on 2023-12-02 at 16:44
For our last example today, we have the Cityrider from EV Rider. This is a compact option that comes in a range of colors. Looking for speed? EV Rider's folding mobility scooter can go significantly faster than our other options at 5.7 miles per hour. The range is approximately 17 miles per charge.
It's durable and sturdy with a weight capacity of 350 pounds. The Cityrider is fitted with a comfortable, upholstered seat and an adjustable tiller.
The ride is smooth, thanks to an integrated suspension system and a cable break. Additionally, you have front and rear lights and a rearview mirror.
The Cityrider isn't as light as other options and weighs a total of 206 pounds.
Pros
Sturdy scooter
Fast top speed and a long range per charge
Integrated safety features
Four colors available
Cons
Heavier than others
Might be too small for tall people
Things to Consider When Buying Lightweight Mobility Scooters
Mobility scooters aren't exactly light on the pocket, so before spending your money, you want to make sure your needs are met. It all depends on where you're going to use your scooter, how far you want to travel, and your preference for three wheels or four. We've gathered some points to consider below:
Where Are You Riding Your Mobility Scooter?
Where you expect to use your lightweight scooter is an essential factor to consider. There are various types, and some aren't suitable for indoor use and some are best kept inside.
If you're searching for an indoor scooter, it must be small to fit around furniture and tight spaces. Lightweight options, such as the Travel Pro Premium 3-Wheel Mobility Scooter by Pride, are ideal for inside use. They aren't wide and can easily fit through narrow doorways, halls, and supermarket aisles.
If you need a lightweight mobility scooter for travel, looking for one that can be used indoors and outdoors. One example is the Glion SNAPnGO 3-Wheel Mobility Scooter. It has a long-range for outside and a tight turning radius for indoor use.
For exclusive outdoor use, opt for durability, especially if you have a heavier build. Often, heavier scooters offer more speed too, such as the EV Rider CITYRIDER.
Three or Four Wheels?
Mobility scooters come with either three or four wheels. Four-wheeled models are stable and excellent for outdoor use, where surfaces are uneven.
However, an extra wheel generally means more weight and a broader turn radius. This can be cumbersome in grocery stores or shopping malls.
Three-wheels designs are typical in lightweight mobility scooters, and for a good reason. They make the vehicle light and easy to turn. They're ideal for indoor use whether you're going shopping or scooting around at home. A tight turning radius allows you to turn on a dime.
With that said, three-wheelers can tip over if you're not careful. You have to be cautious when turning; balance your weight and control your speed.
Weight and Height
Before settling on a scooter, compare options based on your weight and height. All lightweight handicap scooters have a weight limit, which you should observe. Exceeding the maximum weight capacity impacts handling and speed, and you run the risk of breaking the scooter.
Fortunately, most have a high weight limit. Almost all carry over 250 pounds and a few have capacities up to 300 pounds. For the best results, choose a scooter with a weight capacity at least 50 pounds over your weight.
Next, consider your height. Mobility scooters aren't specifically designed in tall or long models, especially the lightweight options. If you're tall, search for models with adjustable seats and handlebars. This ensures ample legroom and minimizes the strain on your back and neck.
Top Speed
Although mobility scooters aren't generally fast for safety reasons, some push the boundaries between mobility scooters and recreation electric vehicles. The EV Rider CITYRIDER is a good example.
Not all manufacturers disclose the scooter's top speed, but reviews are always an excellent place to get an idea. If you're worried about going too fast, consider a speed control. This is a neat little feature enabling you to set a maximum speed. It's especially useful if you're riding outdoors where you can go a little faster.
Easy Handling
To avoid accidents, you need a scooter that's easy to handle. Some come with a Delta Tiller handle, which is a wrap-around style allowing your wrists to rest on it. These are effortless to steer as you only need one hand. Ideal if you have a condition causing limited hand strength or dexterity, like arthritis.
Comfortable Seat
A comfortable seat is always appreciated, mainly if you're riding around for hours. Features to look for include padded seats, backrests, and armrests.
Another aspect worth considering is seat width. Some are quite narrow which isn't ideal for broad users. If your rear needs space, consider a scooter with a roomy seat like the Glion SNAPnGO 3-Wheel Mobility Scooter.
Battery Type
The battery is what determines your range per charge; how long you can ride before your scooter requires a recharge. Scooter batteries are usually lead-acid or lithium.
If you're going to travel and take the scooter on an airplane, consider the battery type carefully. Most airlines don't allow lithium batteries on board or they have restrictions. Make sure that you ask beforehand.
Additional Accessories
Plenty of lightweight mobility scooters offer a range of add-on accessories. This includes seat belts, canopies, and bicycle-type seats.
Some particularly useful features are front baskets, oxygen tank holders, cup holders, and cane or crutch attachments. These can make your life on the road easier.
Get Back on the Road
Getting one of the best lightweight mobility scooters is a sensible idea if you want to maintain your independence. Our top pick is the Pride Mobility Go-Go Traveler. It's lightweight yet durable and capable of carrying up to 300 pounds. It's also easy to assemble and charge, helping you get out of the house faster.
For our runner up, we recommend the Vive 3-Wheel Mobility Scooter. A top choice for outdoor riding, it has a range of 12.4 miles.