Maintaining an independent living is very important for most people. Thanks to the development of technology, we can still handle a lot of things by ourselves even when we suffer from some mobility issues.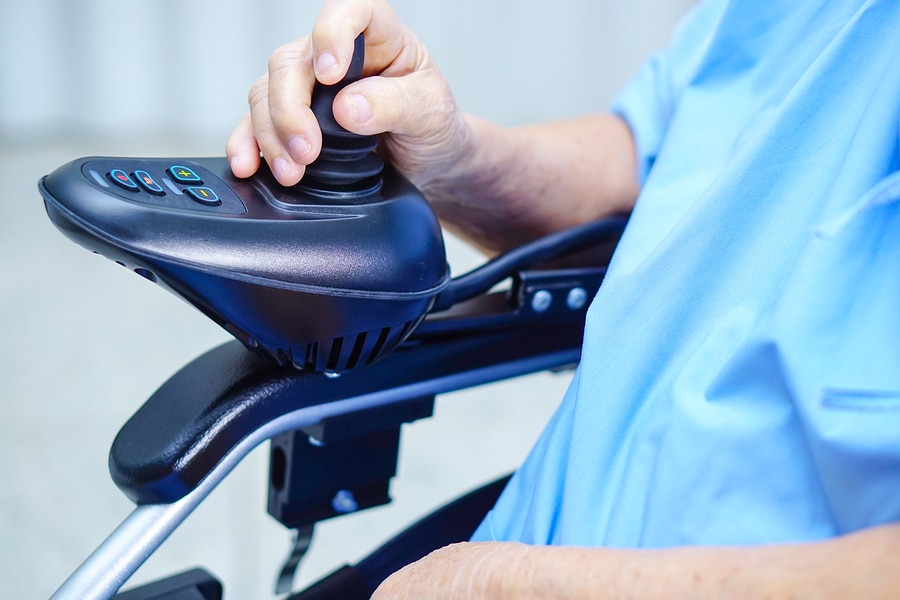 The folding electric wheelchair adds more stability and saves more space and energy for seniors or people with disabilities to travel around. In this post, we will shed some light on why you need it, how to choose it as well as what are the best ones in the market.
Our Picks for Best Folding Electric Wheelchairs:
Buying a folding electric wheelchair is a big investment. You should check the wheelchair, batteries as well as the customer service. If you want to check by yourself, you can start by investigating these 3 products in the table.
Best Overall
Sentire Med Deluxe Electric Wheelchair for Adults, 600...
Budget Option
Drive Medical Cirrus Plus Folding Power Wheelchair with...
Alternative Choice
Forcemech Navigator - 2023 Model Wheelchairs for Adults...
Best Overall
Sentire Med Deluxe Electric Wheelchair for Adults, 600...
Budget Option
Drive Medical Cirrus Plus Folding Power Wheelchair with...
Alternative Choice
Forcemech Navigator - 2023 Model Wheelchairs for Adults...
#Affiliate links.Last update on 2023-03-23 at 21:58
Best Folding Power Wheelchair Reviewed
A good foldable power wheelchair offers greater independence and user experience as compared to standard wheelchairs. Users are able to enjoy improved maneuverability that will allow you to move around your home and outdoors more easily. Read on!
1. Lightweight (50 lbs including Lithium Battery) Electric Wheelchair by Innuovo
#Affiliate links.Last update on 2023-03-24 at 03:56
The Innuovo lightweight foldable electric wheelchair ranks among the top in our roundup as it is stylish and comfortable than most of the products available. Besides, the product is can easily be folded and unfolded, which makes it ideal for injured individuals and elderly people.
In addition, it features very strong construction and offers you lasting endurance and quality. It supports up to 330 lb, which is much more than what most power wheelchairs can withstand.
Moreover, the product provides a safer choice as the manufacturer has thoughtfully designed the wheelchair suit the safety needs of the users. This is by considering efficient safety features while building this folding power wheelchair.
The electric wheelchair is comfortable with a unique 7.5 CM thick seat cushion and easy to operate as it supports joystick, footrest and has stable rear wheels for movement over any sort of terrain.
Additionally, it is lightweight (only 50 lbs) as it features construction made of aluminum alloy, which makes it durable. It also comes with excellent shock absorbers for extra comfort even on outdoor surfaces.
This Innuovo chair is sturdy, lightweight and comfortable which makes it one of the best folding electric wheelchairs for customers to buy.
Pros
Lightweight and durable aluminum construction
Perfect choice for users traveling by air or sea
Supports a joystick for easier operation
Has footrest and stable rear wheels
Comes with great shock absorbers
Withstands up to 330 lb
Cons
Takes a relatively long time to charge
Hard to set the footrest
#Affiliate links.Last update on 2023-03-23 at 22:16
The Forcemech electric folding wheelchair offers great comfort and the convenience to move from one place to another.
Besides, the product is highly portable and also includes unique features that make it one of the best power folding wheelchairs available today. The wheelchair is also electric-powered, which allows you to move it anywhere you want.
With a powerful lithium-ion battery, the wheelchair offers the most mileage once charged as it moves up to 16 miles. This makes it an ideal outdoor electric wheelchair as the power lasts longer before recharging.
Moreover, the wheelchair comes with big non-flat rear wheels (up to 12.5 inches diameter) for a comfortable ride in any type of terrain.
Lastly, the power wheelchair can be folded easily in just a few minutes. Additionally, it is also easier to operate as compared to most products in the market, which makes suitable for beginners and the elderly.
The Forcemech power wheelchair supports the weight of most users as it can withstand up to 397 lbs.
Pros
Comes with the most reliable lithium battery
Support up to 397 lbs
Provides comfortable ride on any terrain
Relatively easy to operate
Highly portable and easy to fold and unfold
Cons
Wheels dig in when used on loose surface
The seat is too low for some users
3.Sentire Med Forza D09 Deluxe Foldable Electric Wheelchair
#Affiliate links.Last update on 2023-03-23 at 21:58
This is another top folding power electric wheelchair that offers great benefits and user experience. Sentire Med Forza D09 power wheelchair makes traveling much easier as it can easily be folded away in just 5 seconds.
Furthermore, the electric wheelchair is lightweight as features an aluminum alloy construction. This makes it easy to carry but yet sturdy enough to withstand the weight of the user.
Sentire Med Forza Electric Wheelchair comes with a reliable battery that stores power for long period but charges fully in half an hour.
The product includes two powerful motors that enhance its mobility. This makes the wheelchair strong enough to handle even steep inclines with ease.
Finally, it comes with wheels with high traction that offer the much-needed grip for movement over gravel or sand with great ease.
Apart from being lightweight, the wheelchair is easy to store even without disassembling.
Besides, the electric wheelchair has a handle under the seat for easier lifting and features a great design that provides excellent comfort on rugged terrain.
Pros
Excellent design for extra comfort
Lightweight
Easy to fold and unfold
Stylish and durable
Comes with 2 powerful motors
High traction wheels ideal for most outdoor surfaces
Cons
Less information on the manual
4.Porto Mobility Ranger D09-S XL
#Affiliate links.Last update on 2023-03-23 at 22:16
This foldable electric wheelchair from Porto Mobility is quite popular in the market now. It is also one of the best-rated foldable power wheelchairs.  Even though it only weighs 50 lbs but can support up to 350 lbs.
The frame of this wheelchair is made with an aluminum alloy which is lightweight but sturdy. The big 8″ front and 12″ rear wheels provide great stability and maneuverability for users.  You can go all-terrain by using this wheelchair.
Featuring a compact design, you can easily put it in the truck of the car. The super Lithium-ion battery can support up to 16 miles of travel distance at 5 MPH speed.
This chair is a heavy-duty product and will last for a long period of time. If you happen to weigh more than others, it can support you better than others.
Pros
Lightweight
It can support up to 350 lbs
It can work well on all terrains
Easy to control
Space-saving design
Cons
The footrest is not adjustable
5. Zinger Chair
No products found.
This zinger chair looks very different from other models we mentioned above, but it is one of the best choices for people who are looking for an ultra-lightweight and compacted folding electric chair.
Strictly speaking, it is not a wheelchair or for medical purposes, therefore you'd better ask your doctor before purchasing it.
It only weighs 47 lbs and the overall size is smaller. Different from other folding chairs, the controller is located at the side. Therefore you can put it in a small car or even under the table.
By pressing the button at the back, this zinger chair can be folded in a few seconds. There are 3-speed options to accommodate your different needs.
This chair does have some drawbacks. It only supports up to 275 lbs and needs more mobility on your upper body.
Pros
Ultra-lightweight
Can place it under the table or in a small car
Easy to fold
Cons
Only bear up to 275 lbs.
Need more mobility on arms and hands
It can only travel 8 miles.
6. EZ Lite Cruiser
#Affiliate links.Last update on 2023-03-23 at 22:16
EZ Lite Cruiser Standard Model Electric Wheelchair is another top product that improves how the elderly and people with disabilities commute. Besides, this product is easier to use as compared to most traditional and some standard wheelchairs.
The EZ Lite wheelchair is comfortable and available in various amazing designs that allow it to suit the needs of most users. Therefore, if you want to upgrade from traditional or standard electric wheelchairs you should consider EZ Lite power wheelchair.
This power wheelchair is lightweight, as it weighs just 50 pounds unlike most of the standard products in the market. This feature comes in handy while traveling as the electric wheelchair can also be folded and stored easily when not in use.
With the lightweight wheelchair, users are able to overcome the hassle of navigating the device around while indoors.
Moreover, the EZ Lite folding wheelchair has a smaller turning radius of up to 33-inches. This allows the user to access and explore tighter areas easily as compared to using most of the products on the market today.
Pros
Comes with a high-capacity Li-ion battery
Lightweight with up to 50 pounds
Small turning radius
Sturdy construction that supports up to 264 pounds
Offers impressive mileage of up to 10 miles
Foldable frame
Cons
Considerably hard to fold and unfold
Poor quality control
Raising the footrest exposes sharp metal edges that could cause injuries
7. Drive Medical Cirrus Plus Power Wheelchair with Footrest and Batteries
#Affiliate links.Last update on 2023-03-23 at 22:16
If you want to buy a good folding power wheelchair but are on a budget, you should go for this one.
Drive Medical is a famous brand in the mobility aids area. This Cirrus Plus wheelchair is foldable and can travel up to 5.5 mph which is a great option for transporting and someone who likes to enjoy high speed.
Even though it can run fast, the safety requirement is well considered by manufacturers. This wheelchair passed the ANSI RESNA testing requirements and the design is sturdy and comfortable.
However,  this product has relatively heavy with a 90 lbs weight without a battery.
Pros
Low price.
It can travel up to 5.5 mph.
Can clean high ground.
Cons
Heavier than other chairs.
8. Foldawheel PW- 1000XL
#Affiliate links.Last update on 2023-03-23 at 21:28
Foldawheel PW-1000XL Electric Chairs is also a good one as it offers unique benefits and a wonderful user experience.
This Foldawheel folding power wheelchair outmatches all the previous models that have appealed to millions of users across the world over the years. The power wheelchair is lightweight at about 57-pounds that makes it easy for injured or old users to move it around as compared to most products in the market.
This makes it an ideal power wheelchair for traveling users as it is unlike some of the models that frustrate users.
Besides, the Foldawheel PW- 1000XL is a sturdy product that offers support of up to 300 pounds. It also comes with an 18-inches comfortable seat and an impressive top speed of up to 5 miles per hour.
Therefore, if you are tired of wheelchairs that creak or wobble while in use, then this product is the perfect choice for you.
The folding wheelchair is designed with brushless motors that offer great power without causing any noise. It also has an excellent texture that allows them to grip most of the surfaces properly.
Therefore, if you are looking for the best electric wheelchair that will not irritate your family members with unnecessary noise, then Foldawheel PW-1000XL could be the right product for you. Finally, the power wheelchair features a perfect suspension system that helps to smoothen your rides.
Pros
Comes with powerful Li-ion battery
Offers an impressive range of up to 9.3 miles per hour
Has a great suspension system for smooth rides
Lightweight with up to 57-pounds
Features quiet but powerful brushless motors
Sturdy electric wheelchair
Cons
Fairly comfortable
Relatively poor customer service
Little information on how to use
9. F KD FoldLite Folding Electric Chair
No products found.
This product is one of the best folding power wheelchairs that you will ever find in the market. The product has various certifications for its performance and safety to its users.
It is also ultra-lightweight as it is designed with aerospace aluminum material and specially contracted frames. Besides, the power wheelchair can be unfolded and folded in just a few seconds to a size that is small enough to fit in an SUV, car, or truck.
It also features a powerful brushless motor that meets military standards. This offers the wheelchair great power with less noise and thus can propel the wheelchair over inclined surfaces.
Additionally, the electric wheelchair has a reliable Li-ion battery that saves power for a longer time than a regular lead-acid battery.
However, the life of the battery can be affected by temperature, the condition of the battery, and most importantly the weight of the user.
It also supports a joystick controller that must be securely mounted for a safe and secure ride when operating the power wheelchair. Finally, the electric wheelchair weighs 62.7 lbs and can support up to 330 lbs.
Pros
Offers a cruise distance of up to 13 km once it is fully charged
Ultra-lightweight and durable
Sturdy construction that supports up to 330 lbs
Powerful brushless motors
Easy to fold and unfold
Produces less noise
Cons
Joystick controller should be securely mounted
Benefits of Using a Folding Electric Wheelchair?
A folding electric wheelchair is a kind of vehicle for seniors or people with mobility issues. A lot of people want it even though it is relatively pricy.
It can take you anywhere you want even though you can't walk too much. It is very stable and easy to control. You can feel free to meet your friends or go shopping.
Compared with other electric wheelchairs, it is more lightweight. As the name suggests, it can be folded so that you can put it in the trunk of your car instead of buying an extra wheelchair carrier.
For individuals who like to travel around frequently, this kind of product is the best wheelchair for you. Buying yourself a portable ramp, this wheelchair can take you anywhere you want. It is also good for people who live in a small space as you can store it even in a small corner.
What to Consider when Buying a Portable Electric Chair
The same as the handicap scooter, the foldable electric wheelchair is an expensive mobility aid. Therefore, you'd better spend more time researching it in order to find the best one that meets your needs.
This is a very crucial factor when it comes to buying a foldable power wheelchair. You should know how long this electric wheelchair can go and how much time you need to get it charged.
The truth is the wheelchair that can travel longer usually cost more money. Hence, you should consider your needs and don't waste your money.
Due to the fact that it is a foldable item, you may need to move it from here to there such as placing it at the back of a vehicle. A lightweight foldable electric wheelchair would be a better choice as the muscle tends to weaken year after year.
A folding wheelchair that can accommodate your body weight will last longer and bring you a safer experience.
Finding a comfortable posture for yourself will not only benefit your health but prevent injuries. Ensure the seat height is adjustable and you can find an appropriate height that you can easily control the chair.
You may wonder how much a good folding power wheelchair will cost. Most of the good-rated electric chairs are expensive but will not break the bank anyway.
Who Should Not Use a Folding Power Wheelchair?
Just as mentioned above, a portable power wheelchair is beneficial to users with mobility issues due to age, injuries, or degenerative ailments.
However, it is also good to understand that there are some individuals that should not use it as it would pose a serious risk to them. Here are some groups that should not use it:
People with Little or No Upper Body Movement
Usually, the foldable electric wheelchairs use special quad controls such as puff & sip breath controls, mouth joystick, or inertial wheelchair controls. This would be very hard for users with less or no upper body movement as they can hardly control it.
Individuals with Poorly Controlled Upper Bodies
These include individuals with Cerebral Palsy, Parkinson's Disease, Multiple Sclerosis as well as people with other severe conditions that affect upper body coordination.
Additionally, some of these conditions may cause impaired judgment, slowed reflexes or impaired eyesight, which could pose a great risk.
Paralyzed Children or Adults with Small Body
It offers several benefits to paralyzed users, but paralyzed children and adults with small bodies are at higher risk when using these chairs. However, this also depends on the mechanical implementations, personalized mobility, individual conditions, and safety training.
Bottom Line
The folding electric wheelchair is a good means for seniors and people with disabilities to go out and keep their independent living. You should choose one that is lightweight, stable, and adjustable. Check our list to get a good one for yourself or your loved ones.