Massage is an excellent way to relieve stress and muscle pains,  but most people don't have the money and time for regular massage services. The massage chairs will offer you similar benefits as massages from the professionals but your home.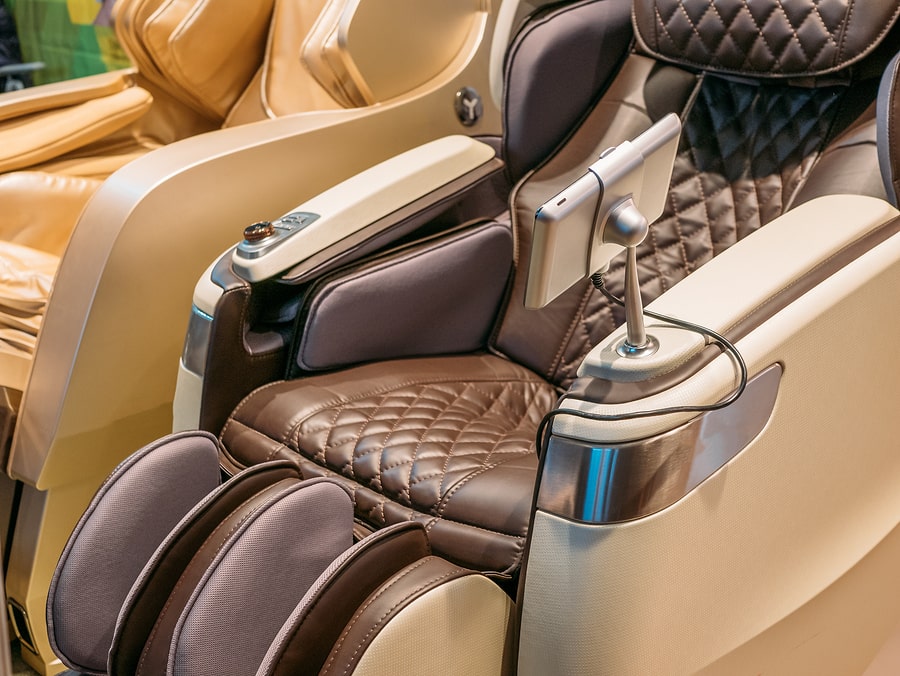 A lot of older adults suffer from back pain, or other problems and a massage chair can help to reduce these syndromes. Hence, we selected and reviewed the best geriatric massage chairs for you.
There are various types of geriatric massage chairs, with different styles, massage types, body coverage, and other special features. Feel confused? Don't worry! You will figure it out after reading this buyer's guide.
Our Picks for Best Geriatric Massage Chairs
If you are short of time, these 3 massage chairs could be good choices for your loved ones and you could check it directly.
Best Overall
Kahuna Massage Chair LM-6800 (Brown)
Space Saving Design
SL-Track Massage Chair Zero Gravity Full Body Electric...
Massage Chair For Short People
Full Body Electric Shiatsu Massage Chair Recliner with...
Best Overall
Kahuna Massage Chair LM-6800 (Brown)
Space Saving Design
SL-Track Massage Chair Zero Gravity Full Body Electric...
Massage Chair For Short People
Full Body Electric Shiatsu Massage Chair Recliner with...
#Affiliate links.Last update on 2023-09-22 at 07:39
The following are some of the things that you can consider when buying a geriatric massage chair.
What to consider when buying massage chairs for elderly
This is the most crucial factor that you should not ignore. Some of the features that you can look at include the control panel, heated therapy, back and neck reclining options, cup holder, feet extenders, armrests, built-in computer, and memory function. 
You should choose a massage chair that can meet your own needs. If your massage chair doesn't come with a table, you can use an overbed table instead.
The design and the size of the massage chair that you choose matters. If you select a chair that provides back, neck, and leg reclining options, you cannot place it against a wall or in a corner.
The same as you choose a recliner for seniors. This is because they occupy more space. If you have a small house, you may not choose this kind of chair. 
Most massage chairs are aesthetically attractive, even when the design is not attractive. The chair may stand out when compared to other furniture in the living room.
Hence, if you want to put it in your living room, you'd better choose a massage chair with a similar color to your furniture. You can also place the massage chair in your bedroom, office, or workout space.
Just like the different massage services on the street, massage chairs for elderly can offer different kinds of massages such as shiatsu, rolling, rapid percussion, kneading, Swedish massage, and pressure.
For example, Swedish massage involves rubbing and deep pressure.  Shiatsu therapy includes the application of pressure on the acupuncture areas of the body.
Some massage chairs can only offer a type of massage so that you should ensure your body will like and withstand it. Don't want to buy a chair for massage? You can consider buying a pure wave massager instead.
As you know, buying a massage chair is a big investment in some circumstances. Hence, it is advised to see the strength of the chair before you make a purchase.
Check out how long the chairs last, how they hold up after hours of using, and if it is worth your money, and what happens when some parts break. A smart way to know it is to read customer reviews.
You will get what you pay when buying a massage chair for elderly. If you only look for a chair with simple functions, you can choose a massage chair with a low price tag. However, if you want a good quality massage chair with fancy features, it will cost you a lot.
Chair warranty and customer service
If you are buying an expensive chair, you need a guarantee. The high-end products cost a lot and also their repairs. Warranty is the solution for maintaining something like a geriatric massage chair.
Most warranties only last for 3 to 5 years and cover some parts of the chair. Read and understand the kinds of damages and parts the warranty covers.
Customer service is essential as well. If your request doesn't get solved after a long time, it will cause a lot of inconveniences. You can get a feeling of what their service looks like by reading the reviews.
This is another factor to consider. The main mechanics of the massage chair consists of the rollers and the airbags. They move around and exert pressure on your body. This is similar to the massage from professional hands.
The rollers come in different forms, and you may feel too sharp or too soft. Before you buy a massage chair for elderly, check the level of comfort that you will get from the balls and the rollers.
The primary use of the airbags is to provide uniform pressure to the body muscles. They are found around the neck, leg, and arm sections.
They inflate and provide pressure when you press the button. When using the massage chair, ensure that the bags are not too tight or too loose. The airbag should be durable.
Some seniors can't withstand the same pressure as young people. Therefore, it is vital to check these parts of massage chairs.
Before you pay for your chair, it is crucial to test all the massage intensity levels. This will help you to know the strength of massage that you will get from the chair. Some chairs are too gentle while others press down too hard.
The massage intensity can be adjusted in some of the advanced massage chairs. Old people are more fragile to some extent. You should consider buying a massage chair that includes the low-intensity option.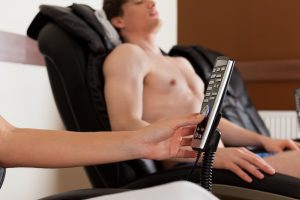 After checking the level of intensity, check the control panel of the massage chair. Ensure that you can control the speed and pressure level of the massages that the chair offers.
Also, find out if you can stop the massages with a button. This will help you not to get stuck in a massage that is uncomfortable or painful.
Additionally, check if you can control airbags and other parts individually and how hard it is to recline the feet or back. Some geriatric massage chair comes with a remote controller, but others have a built-in panel.
If you want to change the settings without altering your own gestures, a remote control may be a better choice.
Dangers of using massage chairs
There are a few things seniors and elderly should consider when using a massage chair. For seniors with some specific diseases, you should consult your doctor.
Firstly, the chairs work within a specific weight range, ensure that you purchase one that is within your weight range.
The massage chairs are not ideal for people who have blood conditions like coagulation and clotting.
Such people can opt for professional hand massage. Massage helps to lower blood pressure, but if you are suffering from low blood pressure, it may even make the situation worse.
People with heart conditions should consult a doctor before using electric massage chairs, because of the electromagnetism involved.
Also, those who suffer from conditions caused by electrical imbalances like epilepsy should not use the massage chairs before consulting a practitioner.
Reviews of Best Massage Chairs for Seniors
1. Zero gravity Full body Kahuna Massage chair recliner LM6800
#Affiliate links.Last update on 2023-09-22 at 07:39
This is the most popular multifunctional massage chair in the market, and it is good for the elderly as well. The best part is this chair is reliable and affordable compared to other expensive massage chairs.
This massage chair from Kahuna has L-track massage system, smart body Scan technology to scan the body and detect your body size for a customized massage. It also features arm airbags, and you can control the intensity.
The heating function, zero gravity settings,  and 5  different massage programs can significantly relieve your back pains.
Besides, it comes with a space-saving design which is good for seniors who live in a small house.  The kahuna massage chair has a warranty of 3 years.
Pros
It is an all-in-one body massage chair.
The L-track system supports the neck to the buttocks.
The three stages of zero gravity help to save space.
The chair scans the body automatically for a custom body massage
It has extra foot padding and remote holders.
Space-saving design.
Affordable price.
Cons
Slight noisy
The foot rollers may feel painful
2. BestMassage Zero Gravity Full Body Electric Shiatsu Massage Chair 
#Affiliate links.Last update on 2023-09-22 at 07:39
The geriatric massage chair from Best Massage has various features as well. It has 6 massage modes which include kneading, shiatsu, knocking, tapping, air pressure, and heating.
Same as Kahuna massage chair we mentioned above, it can scan your body and provide customized massage for you. You can use the auto program or the manual control to choose from the available combinations.
Additionally, the airbags are found at different places to boost blood circulation and reduce pains. You can easily adjust the speed and intensity of the massage.
The chair has different zero gravity positions, and all these features will help you to achieve ultimate relaxation. The zero gravity chairs will elevate your feet and minimize the strain of gravity on the vertebrae.
Besides, this one is also an affordable choice.
Pros
The preset auto program uses different methods to offer the best experience during the massage.
It has stretching programs for the whole body stretching.
You can choose the airbag pressure and speed to control your massage sessions.
It has an air massage system and offers heat therapy.
It uses space saving technology with a modern design
Cons
The rollers are many but fixed.
The assembly manual is not clear.
The rollers are hard.
3. Best Massage Full Body Electric Shiatsu Massage Chair
#Affiliate links.Last update on 2023-09-22 at 09:11
The full body electric Shiatsu massage chair recliner also comes from Best Massage. It can be used in the living room and even in the office. It has built-in heat therapy massage system.
You can adjust the chair to your desired needs. The width control, speed control, and intensity control have three levels, while the air massage pressure has four levels. The massage points work with other parts to give you a thorough massage for relaxation.
Additionally, the chair offers heat therapy for the foot and back; this ensures that there is less pain and increased circulation.
The chair uses smart body technology to measure the spine length and body size for a custom massage. However, this one doesn't include zero gravity function.
Pros
It has a built-in sensor to measure the spine length and know the parts to massage.
You can adjust the massage intensity depending on your weight.
It has seven massage modes.
The preset programs have different massage types to offer you the best experience.
Cons
It is rough.
Not ideal for tall people.
No Zero Gravity Function.
4. RELAXONCHAIR [MK-CLASSIC] Full Body Zero Gravity Shiatsu Massage Chair
#Affiliate links.Last update on 2023-09-22 at 09:11
If you are looking for a luxury massage chair for seniors, this one will not let you down. This massage chair features an intelligent body scan and contoured L-track system which is designed for contouring the body and gliding the lower skull up to the buttocks.
It may be the longest L-track system in the market today. It is also designed to accommodate people who are 5'2″ up to 6'5″tall.
Additionally, you will receive the chair fully assembled. The chair has three stages zero gravity positions for reclining. The 7 built-in programs are ideal for most functions, but you can also use the manual features.
You can focus on specific parts of your back for efficient and concentrated massages. One massage session would last for 30 minutes, and you can fall asleep on this comfortable massage chairs. The weight capacity of this chair is up to 300 lbs.
This is a massage chair with good quality, and you will get 3 years limited warranty.
Pros
The air massage system with heat therapy helps the muscles and joints to recover faster.
An excellent choice for tall people.
You can easily adjust the intensity of pressure and speed of the back massages.
It has a timer to help you enjoy massage sessions up to 30 minutes.
The chairs are durable with a warranty for three years.
Can accommodate people of up to 300lbs
Cons
Not ideal for short people.
It does not come with enough instructions.
5. Real Relax Zero Gravity Full Body Affordable Shiatsu Electric Massage Chair
#Affiliate links.Last update on 2023-09-22 at 09:11
The Real relax zero Gravity Full body shiatsu electric massage chair is an affordable massage chair with good feedbacks.
It includes an ergonomic armrest linkage system, an embedded arm clip which offers comfortable and soft massage for your arm. The zero gravity button will help you to feel weightless, and relax mentally and physically.
The 50 airbags on the arms, shoulder, legs, and seat will ensure that you get a full body massage.
You can choose one of 4 auto massage programs or get a massage on a specific area.  The heating function is included as well. 
This massage chair is easy to control, and FDA approved which can be a perfect gift for seniors, office workers, and those who have some conditions.
Pros
It has different massage intensities and options
It has a zero gravity design
You can customize your massage sessions
It has a weight capacity of 400 pounds.
The chair can be used as a recliner when turned off.
Cons
The airbags on the legs are too much
It is small.
Not ideal for tall people.
6. OWAYS massage chair 3D full back massager
#Affiliate links.Last update on 2023-09-22 at 09:11
If you are looking for a simple and stylish geriatric massage chair, this one is a great choice. It will fit your living room well.
The OWAYS massage chair is multifunctional. It uses the rocking design that offers comfort during the massage sessions. This chair comes with a soft and comfortable cushion that gives you more options for a recliner and massage chair.
Some of its features include heating, thorough kneading and tapping to relieving the aching and stiff muscles.
The strong frequency vibration of the chair helps to promote metabolism and circulation of blood. You can change the settings through a remote controller.
Also, the chair has low motor noise which offers a comfortable environment during the massage process. This chair is not expensive and can be a perfect gift for your loved one.
Pros
The chair offers full body relaxation and provides the perfect stretch and improved metabolism and circulation.
Heating function.
The kneading and tapping features can work separately or simultaneously in a specific area.
You can adjust the neck massager to the desired height
You can easily adjust the height of the massage pillow.
Cons
The grommets may tear off
Conclusion
There are a lot of things that can be done for improving living quality for seniors such as buying a good mattress or a multifunctional massage chair. Before you buy a massage chair for elderly, consider your budget and your needs, most chairs are expensive.
Even though the more costly geriatric massage chairs have more features and are durable to offer you the massages you need, you can still find an affordable and reliable one in the market. Check our picks mentioned above before making a purchase.