A Wrist blood pressure monitor is not as accurate as an arm cuff monitor but it is more portable and still helpful. Seniors who like to travel around love it. In this post, we will guide you to find the best wrist blood pressure monitor for yourself.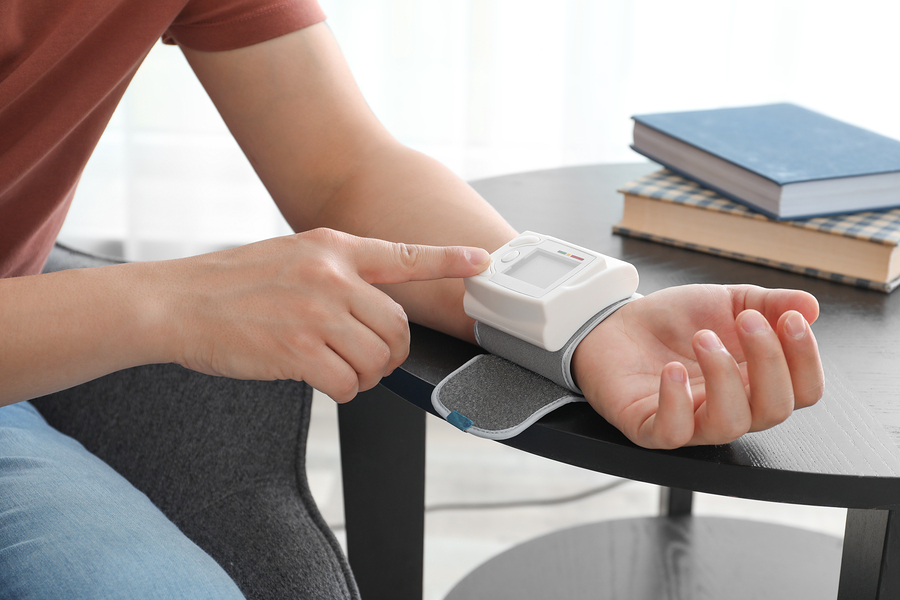 Even though it is relatively easy to use, don't forget to consult your physician to ensure you can use it correctly.
Our Top Picks
If you need to buy it immediately, we highly recommend you to take a look at the Omron Gold Wrist Monitor, other two monitors on the table are also likely to meet your needs.
Best Overall
OMRON Gold Blood Pressure Monitor, Portable Wireless...
From reputable brand, accurate, for 2 users.
Best Overall
OMRON Gold Blood Pressure Monitor, Portable Wireless...
From reputable brand, accurate, for 2 users.
#Affiliate links.Last update on 2023-06-09 at 12:55
Why You Need A Wrist Blood Pressure Monitor?
Some individuals might not be able to use the standard blood pressure monitors on their arms or they might find this method to be too painful. These devices can be a relief to these folks.
The standard wrist blood pressure monitor is equipped with a cuff that fits into most wrists and a digital device on the top.
Most devices allow you to store a number of readings in their memory so you can recall them later and check the differences in your health.
A major reason for their popularity has to be that they are cheaper, smaller, lighter and more discreet. You can use them in public without drawing any sort of attention to yourself.
They are painless and provide much more comfort than an arm monitor. However, they can be quite tricky when it comes to operation.
Best Wrist Blood Pressure Monitors: Reviews
1. Omron Gold Blood Pressure Wrist Monitor– Best Overall
#Affiliate links.Last update on 2023-06-09 at 12:55
A name that we consider almost synonymous with the best wrist blood pressure is the Omron. The Omron Gold Wrist monitor is highly reliable and one of the most accurate wrist BP cuffs we can find.
The Monitor delivers highly accurate readings and instantly detects irregularities. We love how easy it is to use, as it automatically inflates when the wrist is at heart level.
Not only this, the indicator lights make it easy to know if the monitor is in the correct position. The unit is quick and silent, which makes it easier to use it anywhere you want without attracting attention.
It even allows you to store and review about 100 readings each for 2 users so you can keep track of your blood pressure levels.
What's more, you could connect it with Apps and Alexa for better tracking.
All in all, the wrist blood pressure accuracy is the major highlight of this exceptional gadget!
Pros:
High accuracy of monitoring blood pressure.
Slim, discrete design.
Quick and silent inflation.
Easy to use.
Allows you to store data for 2 users and review it later.
Cons:
Can be a little uncomfortable.
Cannot be used in the dark as it has no backlight.
2. Beegod Wrist BP Monitor – Best Value
No products found.
This product is a popular wrist cuff monitor with all the key features to help you get the most accurate results. Compared to the model we mentioned above, it is much cheaper but still gets the job done well.
Worried about having to buy another monitor for your partner? Well, the Beegod Monitor can store two persons' blood pressure readings with 90 each so you can easily check back your and your partner's health status.
The machine automatically averages the last 3 results for more accurate results. Furthermore, the blood pressure monitor indicates any irregularities in your heartbeat so you can keep check easily!
The operation is pretty straightforward and it will shut off automatically after 60 seconds. The broadcast feature benefits seniors with visual problems.
This monitor is AC powered only without battery backup.
Pros:
Cost-effective
Averages 3 results for better accuracy.
Can be used to store 2 persons' data for 90 each
Automatically turn off
Broadcast included
Cons:
The sound is so loud that others will notice it.
3. Care Touch Automatic Wrist Blood Pressure Cuff Monitor – Best Lightweight Model
#Affiliate links.Last update on 2023-06-09 at 18:10
If you are a frequent traveler, you may prefer something lightweight. This monitor from Care Touch features a slim and lightweight design that is suitable for you to place in any bag or suitcase.
Even though it comes with a relatively small size, this BP Monitor has a good memory where it can store two persons' data with 60 readings each separately.
Also included is an LCD screen with a backlight which makes the numbers easy to read even at night. So, you don't have to open your desk lamp every time you want to check your BP.
Another notable feature is an irregular heartbeat indicator to help you take action in case any heart diseases will happen.
This monitor comes with USB charging port without battery backup option.
Pros:
Backlight included.
Slim and lightweight.
Delivers fast and accurate results.
Stores data of two people.
Cons:
The strap is a bit slippery.
4. MOCACuff Automatic Blood Pressure Monitor Wrist Cuff – Best With Sleek Design
No products found.
The MocaCuff Automatic Blood Pressure Monitor is perhaps one of the best in terms of technology and appearance.
It measures your heart rate as well as the blood pressure accurately and quickly. The results are displayed on a large LCD screen.
The best part is that the results are color-coded to help you determine whether your bpm is normal and fall into the guideline or not. This makes it easier for you to read the results.
The major highlight is its Android/iOS app. The MOCACARE App is compatible with a range of devices and even Bluetooth. The app is excellent as it helps you get health recommendations from professionals or from the American Heart Association to help improve your cardiovascular health.
You can sync your device with the app with a single tap without needing any wires. While other devices merely show you the data from previous readings, this app helps you visualize the change in your health trends by generating graphs of the reading.
The app even allows you to export and share the results with the doctor! It is also able to store up to 99 readings in the device.
Pros:
Come with an iOS/Bluetooth/Android Compatible app.
Helps you visualize health trends.
Gives color-coded
Allows you to share results with doctors.
Consistent and accurate
Cons:
Not suitable for folks with bigger wrist sizes.
The app can be a little buggy sometimes.
5. Paramed Automatic Wrist Blood Pressure Monitor – Best With Backlight
#Affiliate links.Last update on 2023-06-09 at 18:10
This wrist BP monitor from Paramed is an affordable and easy-to-use model that is battery-powered.
The interface is simple and the LCD display includes a backlight. This is convenient for seniors who like to know the readings without disturbing partners.
It can measure and store 90 readings so you can easily compare the readings of previous days. This allows you to make healthy decisions and then check their effects in real time.
The monitor comes with a durable plastic carrying case that allows you to take your blood pressure any place and any time!
While it doesn't include some advanced features and seems a bit bulky, you could get a good monitor with accurate results.
Pros:
Quick and fast results.
90 readings can be stored.
Durable plastic carrying case.
Easy to read the screen with a backlight.
Cons:
Fails to read if the arm is not properly positioned.
Not suitable for those with bigger wrists.
Can't store readings for 2 users.
6. VERYCOZY Wrist BP Monitor Cuff – Easiest To Read
#Affiliate links.Last update on 2023-06-09 at 18:10
This is one of the top rated write BP monitor cuff we can find in the market. It is multifunctional but comes with a relatively low price tag.
We love that this monitor has a 3-color backlight. It will show red, yellow and green according to the number of BP. This is great for older adults and patients, allowing you to know your health condition immediately.
The big LCD screen ensures you are able to see the readings clearly. This product is suitable for couples to use together and it is able to store 99 readings for each one.
It comes with a travel case and is AC powered.
Pros
Good value.
3-color backlight to indicate your BP level clearly.
Good for 2 users to use.
Travel case included.
Cons
The result may vary sometimes.
How to Take Blood Pressure with Wrist Cuff?
Before you begin, we recommend reading your device's manual for a more accurate description of how to take blood pressure with it.
This is simply a general procedure. Taking blood pressure with a wrist monitor is quite simple and usually involves the following steps:
Before you start, rest for 5 minutes and ensure your heartbeat is relaxed. Sit on a chair and place your feet flat on the floor. Do not cross them up.
Remove fabrics away from your wrist. The most accurate results will be against the bare wrist.
Put the cuff on. Ensure that the digital display side is on the inside of the wrist. Ensure that the cuff is properly wrapped around your wrist.
Use a pillow or some other thing to put your wrist at level with your heart. Ensure that your palm is facing up.
Press the power button or the Start button. This will turn the device on. Press it again to start the measuring process. However, you might want to select your profile if the device clocks in different users.
Once you press start, the cuff will inflate and deflate. Do not move and do not talk. Keep yourself relaxed.
Your reading will be on the screen.
If your device has an advanced averaging system, you might want to take 2 more readings with a gap of 1-2 minutes. However, you should do that manually as well.
Take your blood pressure at the same time every day.
Record your readings and compare the changes in your activities and diet.
For more info:
What To Look For In A Wrist Blood Pressure Monitor?
Accuracy
Accuracy is the priority when it comes to buying a wrist BP monitor. We suggest you look for products from reputable brands such as Omron. It is also advised to read some reviews and ask your doctor to ensure it does it claim to do.
Comfort
Make sure the strap is non-slip and long enough for your wrist. As this wrist cuff is something you may use daily, the comfort may be more important than you expect. It also affects the accuracy of resulsts.
Portability
A crucial factor why people prefer to use a wrist cuff is that it has better portability. If you travel a lot, pick one with compact design as well as travel case.
Number of Users
Plenty of products these days include a function to monitor 2 persons. If you live with your partner, buying a monitor with this feature will save some money and a good way to monitor each other.
Budget
Investing in a good wrist BP monitor will not cost you a fortune. As it is something related to your health, we advise you to spend a little bit more money. However, if you don't like any fancy features, try a simply one will save you some money.
FAQ
Do wrist blood pressure monitors read higher?
Yes. Usually, the blood pressure measurement taken at the wrist is higher than taken at the upper arm. The wrist monitor is sensitive to body position.
Bottom Line:
A wrist blood pressure monitor can be your good friend when it comes to keeping healthy.
It can help you keep track of daily changes and helps you to visualize how your activities and your diet are affecting your health! If you don't want an upper arm cuff, try to find a suitable one with good accuracy in our list.