Shopping carts for seniors should carry a decent load with minimal effort. They should also be easy to maneuver and run well over uneven surfaces. If you're looking to make your shopping trips easier, consider a dedicated grocery cart for seniors.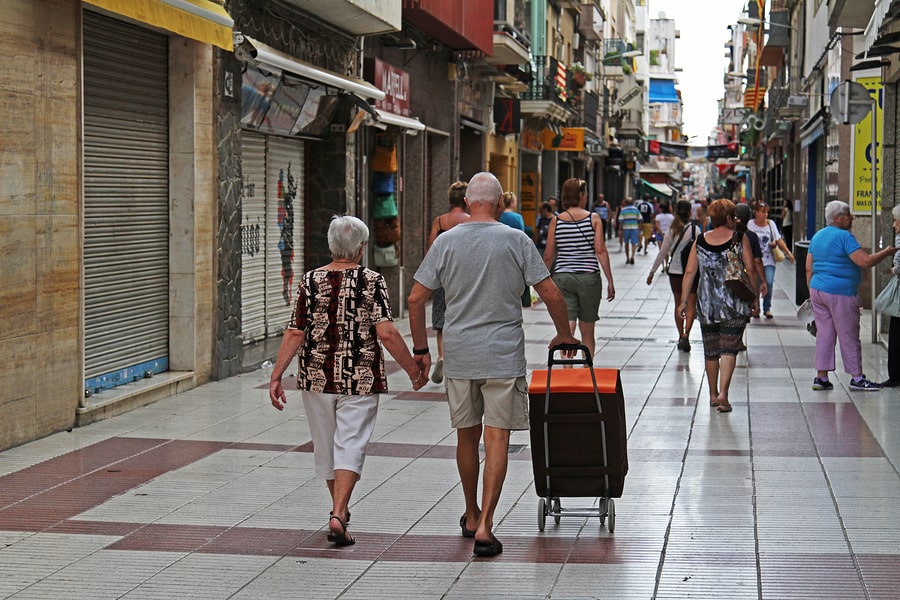 Here, we took a close look at several design features and six of the best models available. All factors taken into account, we recommend the Winibest Shopping Cart overall.
Need more info? Skip down to our reviews of the best shopping carts for seniors or compare the options.

Best Overall
winkeep Newly Released Grocery Utility Flat Folding...
Best Design
Goplus Jumbo Folding Shopping Cart with Rolling Swivel...
Lightweight Shopping Cart
VersaCart Transit -The Original Patented Folding...
Best Overall
winkeep Newly Released Grocery Utility Flat Folding...
Best Design
Goplus Jumbo Folding Shopping Cart with Rolling Swivel...
Lightweight Shopping Cart
VersaCart Transit -The Original Patented Folding...
#Affiliate links.Last update on 2023-06-09 at 22:45
Reviews of Shopping Carts for Seniors
With time, our muscle tends to weaken, making shopping cart become a must-have for old people. Don't forget, a shopping cart is for more than just shopping. A good grocery cart helps you or your loved ones transport stuff from the laundry, carry gardening tools, shift office files, haul suitcases, lift bottles of water and more.

1. Winibest Shopping Cart — Best Shopping Cart For Seniors Overall
#Affiliate links.Last update on 2023-06-09 at 22:45
A well-built grocery cart for seniors that is made of rust-proof aluminum and weighs only 11 pounds. Despite its lightweight credentials, Winibest's model boasts a 66-pound weight capacity.

The front castor wheels are designed for tight turns while the rectangular sponge-covered handle eliminates flex, making the cart highly maneuverable. A mesh bottom prevents small items from falling through while a reinforcing bar offers strength.

When it's time to park and store the cart in your garage or home, the rear wheels are removable and it folds down to a compact 8 by 42 inches.

A five-year product warranty and lifetime technical support are reassuring. All the accessories are replaceable.

Pros
Very lightweight at only 11 pounds
Large loading capacity
Oversized rear wheels climb well over curbs and stairs
Compact flat-folding storage
Cons
Maximum weight capacity not specified but users say it holds up well during domestic tasks
2. Goplus Folding Shopping Cart — Best Design
#Affiliate links.Last update on 2023-06-09 at 22:45
GoPlus' folding cart ticks all the boxes without going over the top on unnecessary features. The compact folding design means it can live in the back of your car until you need it. Flip it open and you're ready to go.

The wheels are solid rubber with small swivel wheels in the front for maneuverability and large rear wheels to get over steps, door sills, or even grass.

A solid build featuring premium heavy-duty metal with rust-proof finish results in a cart that can handle loads of up to 88 pounds — you could throw a grandkid in there if you wanted!

The cargo area is a sizable 15.6 by 17.9 inches and has a separate back basket for smaller items such as drink bottles or a bag.

Pros
Large storage space with extra back basket
Sturdy rubber wheels with tread
Folds compactly without disassembly
Easy to assemble
Cons
Front wheels are relatively small and can make the cart unstable if you're not used to it
3. Wellmax Folding Shopping Cart — Best All-purpose Shopping Cart
#Affiliate links.Last update on 2023-06-09 at 22:45
A sturdy, lightweight shopping cart for seniors that can transport up to 66 pounds. It offers good maneuverability with three-inch swivel wheels upfront. The generous seven-inch wheels in the back snap on and off for more compact storage. Use it for groceries, household tasks and more.

We like the padded handy which is extra comfy and the cart's solid steel construction. You should get years of use from Wellmax's model.

Pros
Padded handle
Comes fully assembled
Heavy-duty steel with chrome finish
Folds up flat for compact storage
Cons
Tall people may find the handle too low
Small front wheels can catch on bumps
4. VersaCart Transit Folding Cart — Lightest Cart
#Affiliate links.Last update on 2023-06-09 at 22:45
A very lightweight steel folding shopping cart for the elderly that weighs just nine pounds, so it's easy to pop into the car or move around the house.

Even though it's a featherweight option, it has a 120-pound weight capacity. A water-resistant canvas bag stops your goodies from getting wet while the fitted cover gives protection from rain and provides privacy.

Claw hook handles on either side offer ergonomic grip, making it possible to steer with one hand. Double wheels improve maneuverability and add stability over uneven surfaces.

Pros
Folds very compactly
Super lightweight at just nine pounds
The storage bag is detachable for cleaning
Comes in three colors
Cons
Smaller rear wheels make this grocery cart for seniors harder to pull up steps
Wheels may need replacing after some use
5. LS Jumbo Deluxe Folding Shopping Cart — Best Heavy-duty Cart
#Affiliate links.Last update on 2023-06-09 at 22:45
The aptly-named Jumbo is a heavy-duty steel cart that can handle up to 200 pounds but still tips the scales at a mere 15 pounds. If you're tired of flimsy carts that last six months, take the Jumbo for a test drive.

When it comes to maneuverability, double four-inch swivel wheels at the front mean excellent handling and stability. Meanwhile, large nine-inch rear wheels mean curbs and stairs are a breeze.

We like the extra rear basket, which can carry your purse, smartphone or other small items.

Pros
Fold-up design
Strengthened wheel axles with thick-gauge steel
Folds and opens easily
Cons
Not the lightest shopping cart for seniors on our list
6. Winkeep Super Loading Stair Climber — Best for Stairways
No products found.
For some, the best shopping cart for seniors is one fitted with tri-wheels to easily climb stairs. You simply pull the cart behind you and the wheels 'roll' over the steps.

Need a break when you get to the top? A front stand keeps the cart upright when not in motion.

A removable shopping bag can organize your phone, wallet, and smaller goods with zipped pockets inside and outside.

The Stair Climber's two-in-one design means the bag is removable so the cart can also carry heavy items like large boxes and water bottles on its 18 by 12-inch platform.

Pros
Stair-climber design
Anti-slip wheel lining
Shopping bags can be removed and cleaned
Carries up to 220 pounds
Comes with an adjustable bungee cord
Wider wheel-span adds stability, especially when pulling up stairs
Folds in half when not in use
Three-year warranty and lifetime technical support
Cons
Assembly required
Two-wheeled cart so user holds load when pushing
The wheel design adds extra bulk when it's folded
What to Consider When Buying a Shopping Cart for Seniors
The best shopping carts for seniors are strong, foldable, and highly versatile, they can do double duty carrying groceries but also laundry, gardening tools, office equipment, and that picnic you've been planning.

The right shopping cart can make a big difference to help seniors live independently and could be a good choice if you are looking for a gift for them.

Basket Design
If you need a shopping cart for seniors that can fold compactly, then a folding cart with a sizable basket is best. You can also choose to allow extra weight and bulk with an additional small basket in the back, such as the Goplus Cart offers.

To save on weight, most carts feature wide wire mesh, but the Winibest Cart features a fine mesh bottom that prevents small items from falling out. The VersaCart Cart takes a different approach with a removable canvas bag with carrying handles.

The also has a removable cloth bag, but that comes with six convenient zip pockets fitted inside and outside. When the cloth bag is removed, the small platform can be used to carry heavy items.

If you need to walk outdoors and risk rain catching up with you, get a cart with a waterproof cloth bag.

Maneuverability
Carts with large rear wheels and small front castor wheels that freely rotate 360 degrees are very maneuverable.

Plus large rear wheels make it easy to roll over small obstructions like door sills or pull the cart up a curb. The front wheels should not be too small to avoid twisting in uneven pavement or surfaces.
The VersaCart Transit Folding Cart boasts four sets of double wheels. That makes for a very stable and smooth ride but requires more effort on steps.

The from Winkeep has a 'tri-wheel' design, an ingenious solution for walking the cart up a flight of stairs. Just don't let go because it will run back down the stairs immediately.

Another point to look out for is the padding or lining on the wheels. Bare plastic makes for a hard ride and is likelier to slip on smooth or wet surfaces.

Ergonomic Handles
Handles can be round or square-shaped, thin or wide, and have thick or thin padding, all of which determine how easy a cart is to hold — particularly when pushing for long periods.

Look for a padded handle with a position that's comfortable to grip. Make sure the height suits you too.

One reason we recommend the Winibest Cart is its comfy, well-positioned handle. But the VersaCart Cart has an alternative design with hooked handles that some people prefer.

Sturdy Build
Choose a well-built grocery cart for seniors built of stainless steel or aluminum. Quality products like the ones on our shortlist are sturdy and won't rust easily. The frame should be solid and lightweight with a design that maximizes robustness and convenience while still being easy to fold.

Long Warranty
Like any product, you want to be sure the manufacturer of your grocery cart stands by their product. You also need access to repairs or a replacement if there's a manufacturing fault.

Reasonable service life for a grocery cart is three or even five years, so we like the long warranty on our recommendation, the Winibest Cart.
Let's Go Shopping
We liked the Winibest Shopping Cart best for its sturdy design and balance of features and functionality. It ticked all the boxes with an effective basket design, good maneuverability, ergonomic handles, sturdy build, and a decent warranty.

However, if you have to climb stairs with your shopping cart, look at the , it can handle a good load and also comes with a waterproof bag.