E-readers have become very popular, even among the elderly. But the pleasure of holding and opening a full-size print magazine or book in your hands is not so easily replaced. If reading glasses are not a good option, then large print magazines for seniors like Reader's Digest or Guideposts may be appreciated. Another solution is a whole page magnifier to read regular magazines.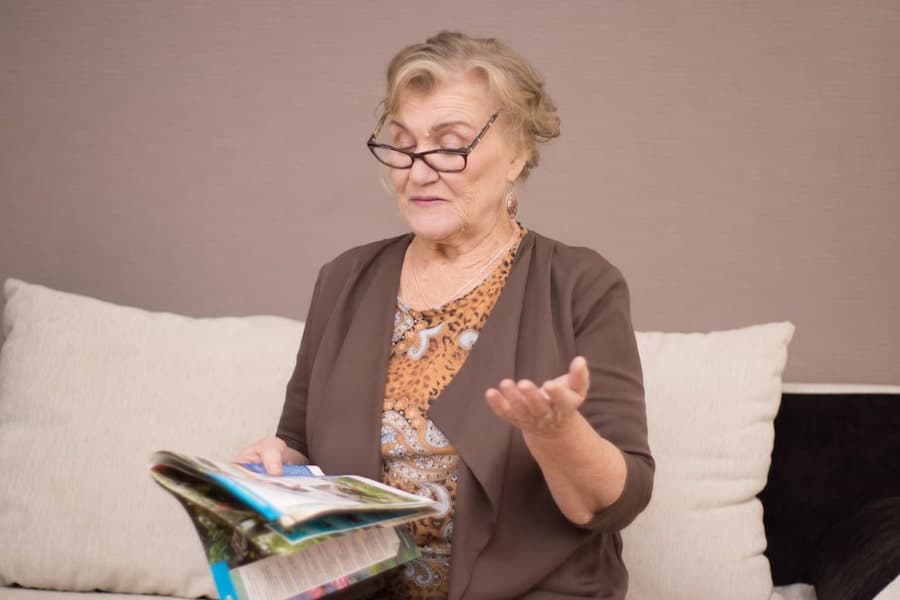 Along with a review of the best large print magazine subscriptions, we selected several other themed magazines for seniors they will appreciate with a reading aid.
(Disclaimer: I am an affiliate of Magazine.store)
Our Picks for Best Magazines for Seniors
Regular and Large Print Magazines for Seniors Reviewed
1. Reader's Digest Large Print Magazine Subscription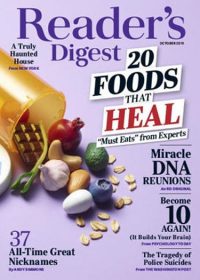 Reader's Digest shouldn't need much of an introduction, but even if you've seen it lying around often, you may not know how much entertainment this little magazine packs. This magazine is a time-honored favorite. Moreover, this perennial publication is one of the few large print magazines available for seniors.
Older readers enjoy the mix of culture and amusement, recipes, and nutritional tips, as well as general guides and ideas. Typical articles range from cooking advice and pet care to saving money and travel.
And if you're looking for health magazines for seniors, then Reader's Digest caters for that as well along with lots of easy fitness recommendations. There are frequent suggestions for healthy meals, personal care, or easy exercise even elderly people can benefit from.
Thanks to the varied content, there's always something to laugh or cry about, so a subscription is a welcome gift. Lighthearted content along with riddles and puzzles are also included to pass the time with. True stories also get good coverage, and reader submissions are actively encouraged.
The sweepstakes and prizes on offer are also enjoyable entertainment for regular readers.
The large print version is nicely laid out for readers with vision impairment without imposing the distraction of a reading aid. Even for those of you without distorted vision, the large print can be easy on the eyes after a long day.
There are 10 issues annually of Reader's Digest, which in 2022, celebrates its centennial since it was first published in 1922.
2. Guideposts Large Print Subscription
The second of the two large print magazines for seniors available is a 70-year old faith-based title that aims to inspire individuals of any faith with positive stories and guidance. Taken from real life and the reader's experiences, the light reading is uplifting with lots of hand-drawn illustrations.
Guideposts magazine is non-denominational and published by a not-for-profit to share stories that encourage and give hope. The writing avoids politics and any controversy but instead invites motivational stories from contributors whose faith and belief helped them through different types of crises.
The stories you will read are often personal experiences of stories of hope, motivation, and positive living. If you need something inspiring that'll improve your compassion towards others; this subscription is ideal.
Like Reader's Digest, it also comes out 10 times a year. Guideposts Magazine has a circulation of over 2 million and contains no commercial advertising.
3. People Magazine
For seniors with an interest in public figures and everyday people like themselves, People Magazine is a popular choice. Along with over 40 million other readers, subscribers follow the lives of celebrities from entertainment and sports, rather than more mundane political or economic issues.
Spectacular photography makes People Magazine very readable for all. Along with celebrity news, there are articles about style, media, and general human interest. And lifestyle and shopping advice are also not omitted.
If you like to know more about the people you see in film and on-stage, then People Magazine will be right for you.
4. National Geographic Magazine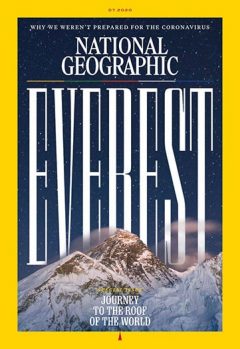 Another classic magazine is National Geographic, which for generations has enthralled readers with lush photography and authoritative writing about the natural wonders of our planet.
Every issue contains in-depth articles about themes and contemporary topics that educate and amaze. Senior readers will appreciate the award-winning quality of the articles and the insights they give into the natural world.
Readers who particularly like to travel and visit nature parks will enjoy a gift subscription. National Geographic often covers popular destinations in North America.
National Geographic is not one of the large print magazines for seniors, but with a reading aid, it will undoubtedly be enjoyed by older readers with weak eyesight. Plus, the images are large and colorful and can be enjoyed by everyone.
5. The Economist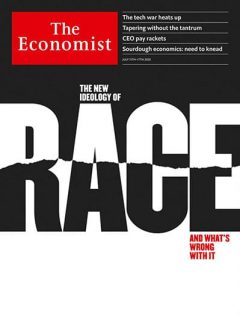 Continuing our list of regular and large print magazines for seniors, the Economist is essential reading for anyone interested in current affairs, and not only the economy.
As a weekly newspaper in magazine format, it covers news topics mostly in politics, culture, business, technology, and other areas of related interest.
If getting old doesn't mean losing curiosity for what's happening in the world, then a subscription to this magazine will help with keeping up. The American edition of this global publication offers the perspectives most relevant to this audience.
The Economist is the oldest publication on our list and has now been in print for over 175 years.
6. BirdWatching Magazine
Bird watching may not be an exclusive activity for older people, but increased leisure time and a desire to remain physically active is enough justification to rekindle an interest in wildlife.
BirdWatching Magazine caters for the serious as well as the occasional birders that like to know a little more about when and where to find the best opportunities to observe interesting birdlife. There's a lot about the biology and ecology of birds, as well as conservation efforts to protect and enhance natural life.
The magazine also offers good information about binoculars, photography, and how to attract more birdlife into your garden. Thanks to many ideas for bird watching holidays, a subscription to BirdWatching magazine will encourage elderly people to stay active and interested in the natural life that can be found not only in their gardens but also further afield.
The bird photography that's featured in BirdWatching magazine is noteworthy. The pictures taken together with the photography advice included will inspire anyone with a camera to take up bird photography. Each issue also covers equipment advice with reviews and tips to help the amateur photographer.
BirdWatching is a bi-monthly American title covering bird life found throughout North America, with occasional features about birds found elsewhere on the planet.
7. Health Magazine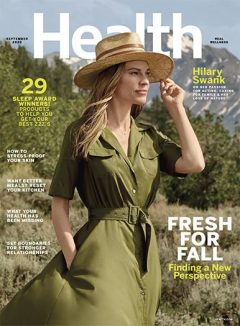 The last publication on our list caters to those interested in health magazines for seniors with an exclusive focus on advice, tips, and home remedies for older women who want to live more healthily.
All articles are practical and authoritative, with information that can be adapted in everyone's life. Along with topical articles, celebrity stories and product reviews are also featured. Anyone who wants to lead a healthy life will read this content with interest.
Readers typically describe Health as informative, varied, useful, and up-to-date. While the magazine is not limited to seniors, general health and wellness topics will also be of interest to elderly people. However, the noticeably large number of drug advertisements are noted as negative by subscribers.
We also included the Sunset magazine since the American West still has a special place in the American soul, whether that's from an upbringing out west, personal connections, or through journeys still in the preparatory stages.
For anyone interested in experiencing a Western lifestyle, this magazine is full of stories, advice, and ideas. Cooking, gardening, and environment are regular topics, but readers especially like the travel ideas and advice. With recommendations on where to go and what to do, owners of motor homes will especially enjoy planning their next road trip.
Over 4 million readers enjoy this bi-monthly magazine that has been in print since 1898.
7 Reasons Why Elderly People Should Read More
Scientists have found many benefits of regular reading by older people.
#1 To Improve Memory
Research has shown that regular cognitive activity like reading lowered the rate of mental decline for seniors. Any reading stimulates memory, which helps with the recall of everyday events.
#2 To Reduce Anxiety
Reading also helps prevent anxiety because it decreases uncertainty, encourages reflection, and lessens impulsive decision-making, another study found. Anxiety is fuelled by an inadequate understanding of the situations one can find oneself in, so reading facilitates informed judgment.
#3 To Improve Decision-Making Skills
In fact, reading can aid older people to analyze and reason better, helping solve everyday problems more easily. This type of cognitive activity will help maintain mental capacity.
#4 To Delay the Onset of Alzheimer's
It's never too late to stimulate the brain with intellectual hobbies and challenges to forestall dementia and Alzheimer's. Reading mysteries or informative articles is a great way to engage one's imaginative and analytical faculties, which can delay mental decline.
Cognitive exercise results in increased neural connections that counter the damage by Alzheimer's disease. Reading can thus maintain important brain functions as you age.
#5 Sleeping Better
The brain, as much as the rest of the body, depends on getting decent sleep. Those that have difficulty falling asleep easily may find that reading in bed can calm the mind and help get to sleep more readily. As part of a regular bedtime routine, reading can prompt your body to sleep much better than a television will.
#6 To Improve Contentedness and Happiness
Reading puts life in perspective, not least by letting readers reflect on their own experiences more objectively. Regular reading can demonstrably increase happiness.
#7 To Live Longer
While researchers may be reluctant to link longer life expectancy directly to reading, we believe no-one would argue with the claim that the indirect benefit from all the advantages of reading listed above will contribute to better health and therefore, can improve your quality of life. That surely is enough of a reason in itself to read more, isn't it?
What to Read?
When it comes to large print magazines for seniors, the choice may be limited, but with a reading aid like a whole page magnifier, a more extensive selection is available. To get started, we recommend to any senior reader America's second most popular magazine, Reader's Digest, in a large print edition.
There are several other long-established titles that older readers will be familiar with and will be guaranteed to enjoy if they share a related interest, like The Economist or Health.
What would you consider the best magazines for seniors?