Life can throw curve balls and at some point or another, you may need a good wheelchair. Whether you need a mobility aid post-surgery or a new wheelchair for an elderly loved one, finding the most comfortable wheelchair is essential.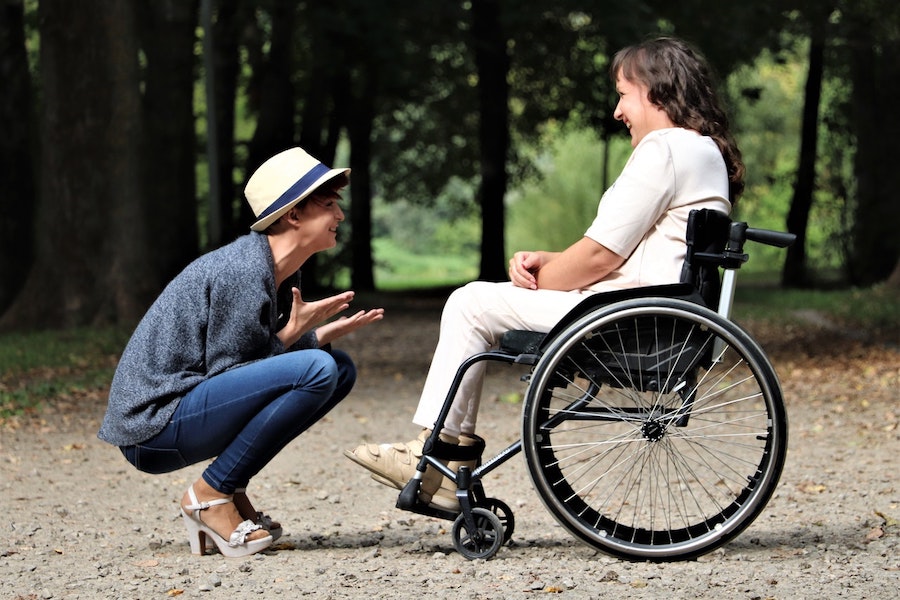 Comfort varies from one wheelchair to the next. The armrests, footrests, seat cushions, and back all have a role to play in the level of wheelchair comfort.
We've reviewed some of the most comfortable wheelchairs, including our favorite, the Karman Ergo Flight Ergonomic Wheelchair. We also come up with a buying guide to help you know them better.
Our Picks for Comfortable Wheelchairs for Elderly
For those who want to make a quick purchase, we prepared 3 wheelchairs in the table. They are likely to meet your needs.
Best Overall
Karman Healthcare Ergonomic Wheelchair Ergo Flight with...
Comfort and Durable
Invacare - 9SL_PTO_34745 9000 SL Durable Light Weight...
User Friendly & High-End
Hi-Fortune Lightweight Wheelchair 21lbs Self-propelled...
Best Overall
Karman Healthcare Ergonomic Wheelchair Ergo Flight with...
Comfort and Durable
Invacare - 9SL_PTO_34745 9000 SL Durable Light Weight...
User Friendly & High-End
Hi-Fortune Lightweight Wheelchair 21lbs Self-propelled...
#Affiliate links.Last update on 2023-03-23 at 17:48
Most Comfortable Wheelchairs Reviewed
Here are our choices for the best ones for seniors and people with disabilities on the market.
1. Karman Ergo Flight Ergonomic Wheelchair — Most Comfortable Wheelchair Overall
#Affiliate links.Last update on 2023-03-23 at 17:48
Apart from being one of the most comfortable manual wheelchairs, Karman's Ergonomic is ideal for traveling. It has a patented S-Style ergonomically-designed seat frame and is made from aircraft-grade aluminum, making it very light at only 19.8 pounds.
The uniquely shaped frame also provides comfort and pressure relief when sitting for extended periods of time.
The chair folds down like a standard wheelchair and does the backrest to make this wheelchair even more compact. It comes with Aegis Anti-Microbial Shield, as well as padded upholstery and fixed desk-length armrests with ergonomic padding.
A pocket behind the backrest provides storage and handy small carry pouches on each armrest are ideal for carrying personal items. This wheelchair has a maximum weight capacity of 220 pounds.
Note that it doesn't come with handbrakes, making it best for those who will be riding solo.
Pros
Ergonomic contouring
Adjustable seat
Removable antimicrobial treated seat
Lightest manually-propelled wheelchair on the market
Cons
With 20-inch wheels, it takes practice to self-propel over thicker surfaces such as a plush carpet or grass
2. Invacare 9000 SL Durable Light Weight Wheelchair — Comfortable Wheelchair With Good Durability
#Affiliate links.Last update on 2023-03-23 at 20:05
Invacare's chair requires no assembly and little to no maintenance. Weighing only 33 pounds, it has a contemporary carbon steel frame, making it strong yet lightweight.
The dual-axle allows for some variation in the seat-to-floor distance making it suitable for taller and shorter users.
The seats are nylon and, along with the back, contain a heavy-duty inner liner to keep them from stretching when in constant use.
Depending on your requirements, you can choose from three different seat widths: 16, 18, or 20 inches. If you're going to be spending a lot of time in the wheelchair, you can also choose from two back heights: 15 to 17 inches, or 17 to 19 inches.
The width of the frame makes it easy to fit through most doorways, and with the wheelchair folding to around 12 inches wide, it should fit in most trunks.
Pros
Weight capacity of up to 250 pounds
Comes with precision bearings
Customizable seat width and back height
Desk-length padded armrests for added comfort
Urethane front and rear tires mounted on "no flex" wheels
Lifetime warranty on the frame and cross braces
Cons
Only a one-year warranty on other components
3. Drive Medical Cruiser III Light Weight Wheelchair — Affordable and Comfort Wheelchair
#Affiliate links.Last update on 2023-03-23 at 17:48
The Drive Medical Cruiser III Light Weight Wheelchair provides a smooth, comfortable riding experience. Weighing in at 36 pounds without the front riggings, it has a strong carbon steel frame and precision-sealed wheel bearings, which should guarantee years of use.
The nylon seat is durable, lightweight, and easy to clean, and features aesthetically clean lines.
In a helpful feature, the seat depth easily adjusts from 16 to 18 inches. The Drive Medical Cruiser III Light Weight is designed to fold up quickly, going from 26 inches wide to 12 inches in mere seconds.
When buying, you can choose between a chair with swing-away footrests or elevating leg rests.
We've picked it as the runner-up as it's among the most comfortable wheelchairs for elderly people who need leg elevation to relieve pressure or pain.
Pros
The carbon frame style allows for custom back inserts and accessories
Removable desk-arms are padded providing additional comfort
Can take up to 300 pounds weight
Adjustable seat depth
Cons
The angle of the front footplate and heel loop can make it difficult to navigate tight spaces
Plastic footrests may break easily
4. Hi-Fortune 21lbs Lightweight Medical Manual Wheelchair — Most User-Friendly
#Affiliate links.Last update on 2023-03-23 at 17:48
This manual wheelchair comes ready to use with no tools and virtually no assembly required. After unpacking, attach the footrests and back safety rollers and you're set.
Larger rear wheels offer better performance on uneven surfaces. It also sports a strong, yet extra-lightweight magnesium alloy frame. For easy transportation and storage, you can use the fast release hook.
This product comes with rear and hand brakes, which not only keep the rider safe but also help the person pushing the chair. The seat width is 17.5 inches and it can support a weight of up to 220 pounds.
With the wheelchair being compact and light, you're able to take it with you on the train, in a plane, and it will fit in the trunk of most cars.
Pros
You can remove the larger back wheels with the push of the button
The wheelchair comes with padded armrests and swing-away leg rests
Lightweight and well-suited to travel
No tools required to assemble
Cons
Comes with a one-year frame and components warranty against defects
Overall width of the wheelchair is 28 inches, might not suit narrow doors and hallways
5. Sentire Med Forza FCX Deluxe Foldable Wheelchair — Most Comfortable Electric Wheelchair
#Affiliate links.Last update on 2023-03-23 at 21:58
If you live by yourself and face mobility restrictions, this folding electric wheelchair could be the option you're looking for.
It has an ergonomic design and is surprisingly compact when folded, which can be done in just five seconds. There is also a handle under the seat for easy lifting by a companion.
With a ground clearance of five inches, you're not limited to where you can go — be it grass, gravel, or even snow. It has intelligent electromagnetic brakes to ensure passenger safety, and although the joystick is set for right-handed operation, it can be customized for left-handed people.
With a weight capacity of 360 pounds and five speeds to choose from, you can go anywhere you want expeditiously and in comfort.
Pros
Ergonomic and comfy design
No disassembly needed
Anti-tip wheels for added safety
FDA registered device
Batteries included
Airline and cruise ship approved
Cons
The joystick can be sensitive — be extra careful!
Tight spaces and narrow doorways may prove challenging
6. Medline Comfort Driven Wheelchair — Most Sturdy
#Affiliate links.Last update on 2023-03-23 at 17:48
Made for easy movement and operation, Medline's chair features a strong yet responsive design. We've ranked it among our list because it offers easy customizations: You can choose a seat width that works best for you (16, 18, or 20 inches).
It also has permanent full-length desk arms and elevating leg rests to help relieve leg pressure and swelling in the lower extremities.
The nylon upholstery is breathable and easy to clean. And it's padded enough for all-day comfort. The ties are a selling point here too, flat-free to deliver a smooth ride and minimal wheel maintenance.
Pros
Large grip area on the full-length armrests
Mag wheels for extra stability
Weight capacity of 300 pounds
Hammertone finish is both crack and chip-proof
Cons
It's slightly difficult to adjust the rear axle when lowering the chair
Shopping for the Most Comfortable Wheelchair: Key Considerations
Don't just choose the first wheelchair you see, no matter how comfortable it seems at first glance. Here are the key factors to consider:
Safety
Some wheelchairs come with seatbelts to prevent you from sliding or slipping out of the seat. Brakes are another factor to consider, especially if you're self-propelling. On that note, if you're going to have assistance, consider the importance of companion brakes.
Think about their positioning too; they should be easy to use by the person operating the brakes.
Make sure the wheelchair is well-balanced and won't tip over easily. You can do a quick tip-test by getting someone to sit in it and actively try to tip by leaning forward or backward.
Durability
A hardy, durable frame is important. Carbon steel and aluminum are both strong but light materials frequently used. Some have a coating or finish on them that is chip-resistant, which keeps the chair looking good for years to come.
The seat and backrest need to be well-constructed out of tough material. You should see no unraveling or splitting seam. Some of the comfortable wheelchairs feature things like "no-stretch" seats, which is a great feature indicating better durability than others.
Maneuverability
Although many companies are now making an effort to be wheelchair-friendly, it's still essential that you can easily get where you need to go.
The size of the chair is important for maneuverability, a large wheelchair is more difficult to take certain places, while a compact chair is easier to get around in.
Being able to move or remove the footrests can help maneuver the chair in certain situations. Narrower chairs are better if you live in a tight space but may compromise on stability as you lose the larger wheels.
Portability
Even if you aren't planning on traveling with a wheelchair, it's a good idea to know whether your chair is portable when you make a purchase, just in case.
Many wheelchairs can fold up to half their original size so they're easy to put in the trunk or the car's backseat.
Some wheelchairs are suitable for planes and trains, but it's a good idea to check first. If you plan on going to far-flung places in your chair, choose one that is easily folded and stored on public transport. 
You can get more insights by watching this video.
Our Verdict
Our winner for the most comfortable wheelchair is the Karman Ergo Flight Wheelchair. It is lightweight and features an S-shape seating frame which helps relieve pains and strains. If comfort is your priority, this chair will let you down.
Next in line is the Drive Medical Cruiser III Light Weight Wheelchair, which is slightly heavier than the top choice but folds up easily and provides a comfortable riding experience.
Whether you're after the comfortable manual wheelchair, an all-singing electric model, or the most comfortable wheelchair for elderly travelers, you're off to a great start with our choices.