If you are looking for a standing and raising aid for yourself or your grandparents or someone who has difficulty standing on his own. This article will guide you about the best sit to stand lifts that you can buy for those with partial mobility. Keep reading!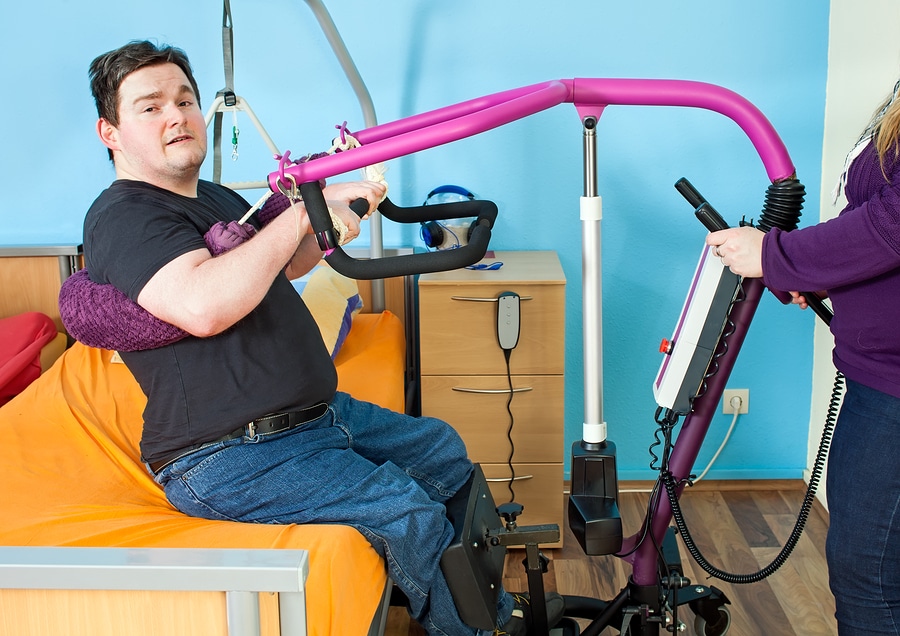 Our Picks for Best Sit to Stand Lifts
We understand how hard for you to buy the mobility aid like this, so we pick 3 sit to stand lifts that are likely to meet your needs in the table in case you need to make a quick decision.
Best Overall
Invacare Get-U-Up Hydraulic Sit to Stand Patient Lift,...
Best Budget Option
Lumex Stand Assist Patient Lift - Safely Sit, Stand,...
High-End Option
ArjoHuntleigh Sara Stedy Sit to Stand Manual Patient...
Best Overall
Invacare Get-U-Up Hydraulic Sit to Stand Patient Lift,...
Best Budget Option
Lumex Stand Assist Patient Lift - Safely Sit, Stand,...
High-End Option
ArjoHuntleigh Sara Stedy Sit to Stand Manual Patient...
#Affiliate links.Last update on 2023-09-22 at 04:25
What is sit to stand lift?
A sit to stand patient lift differs a lot from the usual floor power manual lifts (such as hydraulic patient lift).
A sit to stand lift is specially designed medically to help those patients with reduced mobility when transferring between sitting and standing positions. This standing and elevating aid is a lift designed to support the patient's upper body only and then requires that the patient be able to carry a certain weight.
A sit to stand lift usually made of a frame of metal, a supporting padding, and strap system which reduces the falling risk of patients at increased risk significantly.
A few straps attach to the lifting arm that pulls the patient to a standing position when the lift is lifted. A sit to stand lift also consists of a wide padded belt that wraps around the patient's chest. The patients place their feet on the platform and put their knees on a supporting knee block pad which prevents bending the knees when lifted.
Best sit to stand lift reviews
To keep up the mobility, choosing the right sit to stand lift for a patient is very essential. This article will highlight the best sit to stand lifts available in the market.
1. Get-U-Up Hydraulic Stand-Up Lift – Best Sit To Stand Lift Overall
#Affiliate links.Last update on 2023-09-22 at 04:25
This is a great product by Invacare for the daily handling and fast toileting of patients who can bear some of their own weight. It has an overall height of 36 to 65 inches with a base length of 40.5 inches and under-bed clearance of 4.5 inches allows access to nearly all home beds.
The Get-U-Up lift comes with a variety of features like a side rotating hydraulic pump handle, adjustable padded support for legs at every height, low-friction rolling casters and a non-skid footplate that is retractable.
It has a weight of 88 pounds while can bear weight up to 350 pounds. The lift is also designed to be compatible with various types of slings.
This Invacare Stand-Up Lift offers excellent access for the removal of patient's clothes, over a toilet seat positioning, and a large push handle for easy movement which does not require any electrical power.
Pros
Hydraulic lifting system
Easy to use
Offers many additional features
Protects against the unintentional detachment
3 year and 1 year limited warranty on the lift and hydraulic pump respectively
Affordable
High-quality and ergonomic design
Cons
A high assistance of caregiver required
Difficult to move a weight of 88 pounds by caregivers
2.Lumex Stand Assist Patient Transport Unit – Best Budget Option
#Affiliate links.Last update on 2023-09-22 at 07:05
For customers who are looking for an affordable sit to stand lift, this one is one of the best choices. This product weighs 61 lbs and it is easier for caregivers to move around. It included a lock for rear casting so as to improve the security level.
This sit to stand lift from Lumex comes with a lower price tag and good for family who is on a budget. It offers a variety of features.
The split seat is nice due to the fact that seniors can sit on it while transferring without using a sling. The grab bar is very convenient for individuals who want to get in and out of a lift chair or an adjustable bed.
This product can hold up to 400 lbs and is suitable for users who are between 5'1″ and 6'6″ tall. It is small so that you can use it through the narrow doorway easily just like some narrow walkers we mentioned before.
It should be used by people who still have relatively strong strength.
Pros
Affordable price: good for people who are on a budget
Split seat to offer comfort and support
Small size and lightweight
Convenient to transfer between a bed, chair, toilet, and commode
Easy to assemble
Cons
Maybe too narrow to use with some wheelchairs appropriately
Not as sturdy as some expensive models
3. Pivit Stand Assist Patient Transport Lift
#Affiliate links.Last update on 2023-09-22 at 07:05
The Pivit Stand is a moving aid that enthusiastically engages the patient in the transport process by allowing a comfortable and quick change from sitting to standing positions.
It supports the elderly patient and prevents fall. It is loaded with many features and reduces the effort and time of caregivers as it makes bathing and lifting quick and easy. The product dimensions are 33.5 x 25 x 43 inches with a front base height of 4 inches.
It comes with dual knee and seat pads for easy transport and a non-skid black footrest with grip bars. The secure base with locking back casters provides safety, easy movement and walking to the toilet and fits through narrow doorways as well.
This device weighs only 61 pounds whereas offering a weight capacity of up to 400 pounds. It allows easy loading and unloading due to the folding seat which splits and then it can swing back to create a stable comfortable transport seat again.
Pros
Lightweight; easy to transport
Comes with a 3-year warranty
Can handle high weight load easily up to 400 pounds
Reduces the injuries risk and fall by the support slings
Ease of use
Affordable
Versatile use
Cons
Shorter leg width
Difficult to move on carpet flooring
4. Hoyer Journey Sit to Stand Lift
#Affiliate links.Last update on 2023-09-22 at 07:05
The Hoyer Journey standing lift is ideal for those patients who have a little bit of weight-bearing ability but still need support in standing. It has a total weight of 88.6 pounds and has a weight capacity of 341 pounds.
This sit to stand lift comes with a technology of smart monitor that provides provide the relevant information on the lift to caregivers, patients, and the maintenance technicians.
It also features an adjustable cradle or cow-horn that accommodates a range of heights for the patients.
The instinctive push pad helps to initiate the first directional movements of the lift that lessen the primary stress on the caregiver's body.
The adjustable knee pad is another feature of this sit to stand lift for patient comfort to accommodate different user heights. It is also friendly to the caregiver because it can be adjusted by a single hand. It is powered by a 24 V, sealed lead acid battery that is rechargeable.
Pros
Easy operation
Well-built
Steel frame
Folding design for easy storage
Smart monitor
2-year manufacturer warranty
High weight capacity of 340 lbs
Cons
Heavy
Help required from caregiver
No hand remote control
5. ArjoHuntleigh Sara Stedy Manual Stand Aid – High-End Stand Lift
#Affiliate links.Last update on 2023-09-22 at 07:05
This is the high-end product and one of the best sit to stand lifts in the market now. This Sara Stedy stand aid often shows in the hospitals for rehabilitation and transfer purposes.
It is made with high-quality material and easy to handle. However, it comes with a high price tag.
This sit to stand lift features an adjustable base which helps you to maneuver at the different areas. The base is pedal-operated so that patients can modify it by themselves.
Like the Lumex one we mentioned above, it also comes with a pivoting seat to offer support for the user. The total-lock castors help to offer safety and stability.
Pros
The base is adjustable and pedal-operated
Pivoting seat included
The knee pad is comfortable
Total-lock castors contained
Cons
6.Standing Power Body Lift (Lumex Easy Lift STS -LF2020)
#Affiliate links.Last update on 2023-09-22 at 07:05
The LF2020 is an electric sit to stand lift by Lumex is designed to provide fast, safe support for those with standing difficulty. The construction from heavy-gauge steel with a powder coated finish allows carrying up to 400 pounds with maximum comfort and stability.
It has ergonomic and unique pedal base opening for the foot with fast release foot platform that is removable. This Lumex standing lift has large easy grip handles for simple movement and a knee pad unit that is adjustable. It is powered by a 24V DC motor that allows smooth, quiet and easy operation.
The LF2020 also comes with warning alarms such as beep for high weight capacity warning and low battery indication with an emergency instant stop button for safety. A complimentary buttock strap also provides additional support to the patients.
The spreader bar and frame have a limited warranty for three years, whereas the actuator has a limited warranty of two years. The batteries have a limited one-year warranty.
Pros
An accessory storage bag is included to keep slings and charger
Robust durable steel design
Rubber base coating prevents the damage to walls and furniture
A changeable knee pad unit
Warning Beeps
Easy grip handles
A buttock strap is provided
Cons
Heavy to move by caregivers
Expensive
Benefits of sit to stand lift for elderly and handicapped?
A sit to stand lift is an important requirement for many patients including elderly and handicapped, as the most percentage of injuries in elderly patients are due to falling.
Patients gain physical benefits from maintaining their mobility with sit to stand patient lift.
In addition to the physical benefits, many patients also benefit from the psychological advantages as they are able to stand for a shorter time throughout the day which improves social development and self-esteem.
These lifts can be used by people with muscle weakness, leg injuries, and reduced motor function of legs of elderly patients. These sit to stand lifts helps to improve the balance and strength of the patient's upper body.
It also helps in reducing the pressure sores by changing the positions (you can also use a pressure relief cushion). A sit to stand lift will enhance the movement of the spine, back, hips, ankles, and knees for elderly and handicapped people.
People who cannot stand by themselves can use a sit to stand patient lift to avoid secondary problems which are often caused by the use of a wheelchair for a prolonged time.
Besides, these standing lifts also benefit a lot to the caregiver for helping patients with safe transfer and moving from the bed, recliner, or other sitting positions comfortably.
The caregivers do not need to lift the patients to a completely flat position to be transferred to another place.
How to choose a sit to stand patient lift
Sit to stand lifts are a must for many patients to have a comfortable and safe way to get up to their feet but there are some things and features to consider when buying it. All these things must be considered before selecting a sit to stand lift.
Manual and powered sit to stand lifts
A manual sit to stand lift offers less help in the process of helping a patient stand or sit down and requires more help from a caregiver. They are less expensive and used by patients who are able to stand up without help.
An electric sit to stand lift uses a battery system or wall outlet power to provide motorized aid to the patient while moving between the standing and sitting positions.
They are expensive and controlled by a manual remote control with up and down buttons. Electric sit to stand lift is used by people who do not have the ability to stand but can bear weight to some extent on at least one leg.
Weight capacity
Weight capacity is an essential factor in the selection of a suitable sit to stand lift device. Every standing patient lift has its own specific weight capacity. Most of the lifts have a weight capacity between 250 to 400 pounds.
Certain sit to stand lifts are designed to support higher weights that are perfect for heavy patients.
Additional standing aid
Every sit to stand lift offers a variety of equipment to help the caregiver and patient during the standing or sitting process which includes padded special hand grips, ankles/ knees support straps, and lifting harnesses.
If you or your dear ones need extra support to stand up, these things are definitely worth considering when choosing a stand-up lift for buying.
Sit to stand lift weight
Heavy standing lifts can be a challenge for the caregivers to move from one place to another. So if you intend to buy a lift for home usage then consider a lightweight standing lift that allows the patient's personal ability to move the weight.
Some additional features
Some Sit to stand lifts offer additional features to their customers that may vary from one product to another such as portability and easy recharging of the battery, a hand-held remote with a control push button, special rubber foot gripping, and a locking system.
You should look for the device offering maximum features for better support and care.
To get more insight on how to use the sit to stand lift, please watch this YouTube video.
Bottom Line
Nowadays, these sit to stand lifts are also becoming popular for home use with the elderly or for use in people with physical disabilities.
There are many standing lifts products on the market and what features you get with each product are not easy to see. To help make you choose the right sit to stand lift for your loved ones, we provided you with the best sit to stand lift review.