Rheumatoid arthritis is a very common condition that can negatively affect your ability to use a computer, tablet, or smartphone. Using an alternative mouse can help alleviate the hand pain and counteract the problem. You should look for a mouse with easy-push buttons that do not require a strong grip.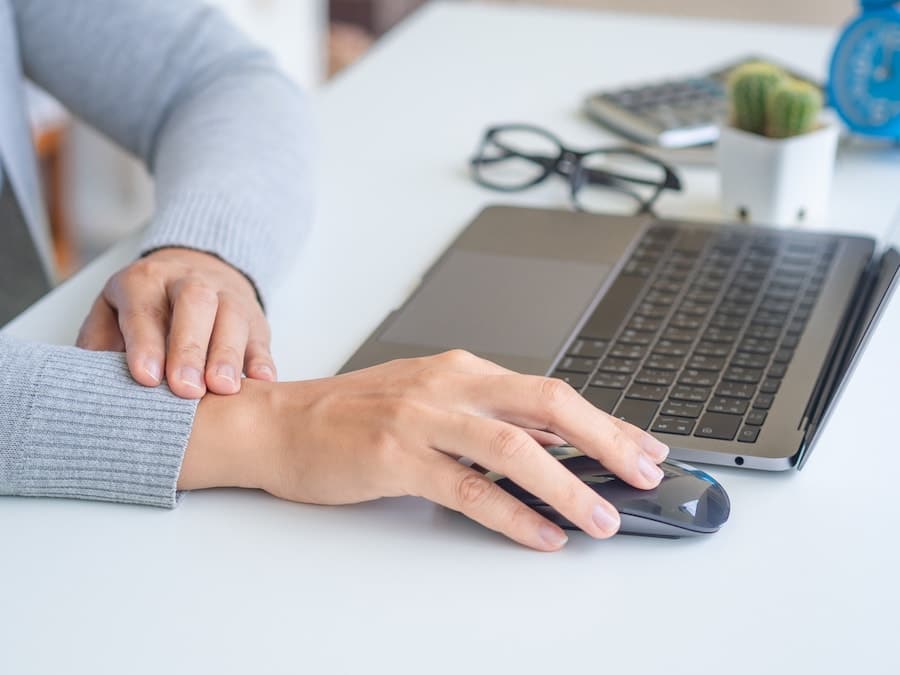 We looked for the best computer mouse for arthritis in the hands and can recommend both the Logitech M570 Wireless Trackball Mouse and the Anker Vertical Ergonomic Optical Mouse. There are other 4 good ones for you to choose from as well.
Our Picks for Mouses for Arthritis
These 3 mouses all feature for ergonomic and arthritis-friendly design. If you are in a rush, check them and you are likely like them.
Best Overall
Logitech M570 Wireless Trackball Mouse – Ergonomic...
Best Vertical Option
Anker 2.4G Wireless Vertical Ergonomic Optical Mouse,...
Best For All Day Use
Lekvey Ergonomic Mouse, Vertical Wireless Mouse -...
Best Overall
Logitech M570 Wireless Trackball Mouse – Ergonomic...
Best Vertical Option
Anker 2.4G Wireless Vertical Ergonomic Optical Mouse,...
Best For All Day Use
Lekvey Ergonomic Mouse, Vertical Wireless Mouse -...
#Affiliate links.Last update on 2023-06-09 at 22:45
Best Computer Mouses for Arthritic Hands and Fingers Reviewed
Your own situation and computer use are unique. For example, casual use at home imposes a different level of stress on joints than working all day in an office environment.
But if you're feeling the strain, literally, changing your mouse can help. Check the best 6 ones we found in the market that help to relieve your hand pains.
1. Logitech M570 Wireless Trackball Mouse — Best Overall
#Affiliate links.Last update on 2023-06-09 at 22:45
The best mouse for arthritis sufferers requires little wrist movement, and the Logitech M570 achieves that with a trackball design.
This solution not only avoids unnecessary joint fatigue but also the space your mouse takes up. You can even sit in bed and use this tracking device without a flat surface.
The sculpted design creates a perfect hand rest, molded to the shape of your palm. All the buttons and the trackball itself are naturally positioned under the tips of your fingers.
A slight bend of your index and middle finger depresses the left and right mouse button, the tracking wheel is placed between them, just like on a regular mouse. You can use this mouse all day long with minimal impact on your wrist and it's intuitive so won't take long to master.
A smart extra feature is the placement of the back and forward buttons on the ridge between your thumb and index finger, allowing you to comfortably browse between websites, document pages, or apps.
Logitech's Unifying Receiver plugs into the USB port on your computer where it can remain permanently without getting in the way. You don't need to use another USB port if you add an additional Logitech keyboard or mouse.
The battery will last for up to 18 months. A warning light indicates when the battery is running low.
Pros
Ergonomic button placement
Back and forward browsing buttons
Trackball allows the mouse to remain stationary on any surface
2.4GHz wireless technology for better performance, up to 30 feet
Programmable one-touch button for regular tasks
Adjustable cursor speed
Cons
The cursor is harder to move further on the screen with a trackball than with a regular optical device
2. Anker Vertical Ergonomic Optical Mouse — Best Vertical Option
#Affiliate links.Last update on 2023-06-09 at 22:45
For seniors and other people with arthritis, holding a mouse for extended periods of time can be painful.
If you've got work to do, a vertical mouse that allows the wrist to remain in a 'handshake' position can overcome that. One of the best with this design is Anker's Vertical Mouse.
Unlike the Logitech Trackball Mouse, a vertical mouse replicates a regular mouse by allowing users to move the on-screen cursor by displacing the pointing device. There's a similar level of precision, although it lacks the 'fingertip feel' of a regular mouse.
A welcome feature for desk workers is the inclusion of the back/forward (previous/next) buttons to flip through pages in a document or tabs in a browser.
Pros
Ergonomic button placement
Automatic battery saving mode
2.5 GHz transceiver
Increased precision with up to 1600 DPI resolution optical tracking
18-month warranty
Button to set three levels of sensitivity that determine the distance the cursor moves
Cons
The grip necessary to depress the mouse's buttons can be uncomfortable for some users
Unpleasant to use with small hands
3. Levkey Vertical Wireless Mouse — Best for All-day Use
#Affiliate links.Last update on 2023-06-09 at 22:45
Although not one of our top two picks, the Levkey Vertical Mouse is still a contender for the best mouse for arthritis. The ergonomic design, convenient button placement, and easy use match other top vertical mice, making this suitable for professional all-day use.
Extra features not often found on ordinary mice are not forgotten, such as the back and forward buttons and three levels of sensitivity.
We especially liked the built-in rechargeable battery, which is rated for 300 charge cycles, to save money and resources. A USB charging cable is included and the charging light on the side of the mouse turns from red to green when the device is fully charged.
It comes with highly commended and prompt customer service, and an 18-month warranty and refund policy.
Pros
Ergonomic handshake grip fits medium or smaller hands well
Six control buttons, including a programmable custom button
Full charge will last for weeks of daily use
Cons
Feels too light for some
Uncomfortable for large hands
4. Nulaxy Wireless Vertical Ergonomic Mouse — Best Value
#Affiliate links.Last update on 2023-06-09 at 23:15
The Nulaxy Veritcal Mouse replicates all the features of other highly rated mice for arthritic hands. It's on our shortlist but is somewhat outranked by devices with a better build quality and customer service.
This ergonomically designed mouse adopts a natural handshake-like form. Six buttons, including a scroll and forward/backward buttons, are placed under or near the fingers. We like the adjustable sensitivity, a recommended feature in a computer mouse for arthritis.
Pros
Good implementation of the vertical mouse design
All essential functions and technology incorporated
2.4 GHz receiver and adjustable tracking
Nice, rubbery matte finish grip
Cons
USB receiver storage is under the battery
5. Delux Ergonomic Vertical Mouse — Most Colorful & Fun
#Affiliate links.Last update on 2023-06-09 at 23:15
If the stylish design of the Delux Vertical Mouse doesn't stand out enough on your desk, the rainbow-colored lit edges certainly will.
Besides aesthetic qualities, this vertical mouse has all the expected buttons, a longer range using 2.4GHz transmission technology, and adjustable sensitivity up to 1600 dpi.
The wider shape may prove more comfortable than other models we have reviewed. Tilted on an angle matching the natural position of your wrist, the Delux is comfortable.
An extra feature missing in other models we reviewed is the integrated wrist pad. Taking into account the thumb groove and rubber coating, the whole package is an appealing option for occasional or regular use.
Pros
'Voluminous' shape popular with many users.
Distinctive design
Palm pad
Cons
The unusual shape is not for everyone
Not easy to install on Apple computers
6. Skyshadow Optical Pen Mouse — Best Pen Mouse
No products found.
We included the Skyshadow Pen Mouse as a radical alternative to the tracking ball and vertical mice above.
Sharing the advanced mouse technology found in the other model (adjustable sensitivity, increased 2.4GHz wireless performance, and page-turning button), it has quite a different fit in your hand.
A small desktop holder keeps the pen mouse ready when not in use. The Skyshadow is particularly suited to graphic input and handwriting recognition.
Pros
Unique pen-like design
Use as a mouse or graphic input device.
Compatible with all major operating systems
Uses regular AAA battery
Suitable for left-handed users
Cons
Does not have a mouse middle click
What to Consider When Buying a Mouse for Arthritis Sufferers
Arthritis in Index Finger or Wrist
Using a device that positions your hand in a handshake position can offer some relief.
Arthritis, repetitive strain injury, and carpal tunnel syndrome are conditions that can be caused or aggravated by mouse use. Avoid turning your hand and devices that require a strong grip on the mouse.
Will My New Mouse Work With Any Computer?
The mice technology used in computers from nearly all manufacturers is the same, including machines running Windows, Android, Linux and MacOS. But don't assume all special buttons will work, check device compatibility first.
What if I'm Left-handed?
Lefties face difficulty finding a suitable mouse. While a regular mouse can be reprogrammed to switch left and right mouse buttons, the ergonomic mice discussed here are specifically contoured for right hands. 
Of our picks, the is a good option for left-handed users with arthritis.
Essential Features in a Computer Mouse for Arthritis
Apart from an ergonomic shape, we selected models that had these key features:
2.4 GHz transmitter to maximize distance and responsiveness, and to minimize interference and freezing
Adjustable sensitivity
Integrated USB receiver storage to avoid it getting lost
Back/forwards buttons to make browsing easier. This feature is also useful when flipping digital media libraries.
Our Verdict
The best mouse for arthritis avoids the cramped position you face holding a regular mouse. Proven ergonomic and arthritis-friendly design is found in vertical mice, and this was implemented well in both the Anker Vertical and the Levkey Vertical.
A shout out to the Logitech M570 Wireless Trackball Mouse, too. The wrist and finger-friendly design in this trackball mouse impressed us. Professional users will appreciate the combination of precision control and minimal strain.
If you're looking for something outside the box, or a left-handed option, take a look at the which for some may well be the ideal mouse for arthritis sufferers.