The best computers for older people serve a range of purposes, from displaying photos of grandchildren to writing a biography. But at the same time, computers for seniors need to be highly user-friendly and intuitive. Elderly parents want functionality and ease of use, not blazing game performance or memory-hungry multi-tasking.
Our Picks for Best Computers for Seniors
Clear displays, reliable performance, and user-friendly features distinguish computers like the HP Pavilion All-in-One, the Dell Inspiron Laptop, and the Fire HD 10 Tablet as the best computers for older adults and elderly parents.
Best All-in-One Computer for Elderly
HP 4NN56AA#ABA Pavilion 24-Inch All-in-One Computer,...
Best All-round Laptop for Seniors
Dell Inspiron 15.6" Touch Screen Intel Core i3 128GB...
Best Entertainment Tablet
Fire HD 10 Tablet (10.1" 1080p full HD display, 32 GB)...
Best All-in-One Computer for Elderly
HP 4NN56AA#ABA Pavilion 24-Inch All-in-One Computer,...
Best All-round Laptop for Seniors
Dell Inspiron 15.6" Touch Screen Intel Core i3 128GB...
Best Entertainment Tablet
Fire HD 10 Tablet (10.1" 1080p full HD display, 32 GB)...
#Affiliate links.Last update on 2021-05-11 at 22:14
Reviews of the Best Computers for Seniors
Our selection includes the most popular tablets, laptops, desktops, and all-in-one computers on the market:
1. HP Pavilion 24-Inch All-in-One Computer — Best All-in-One Computer for Elderly
#Affiliate links.Last update on 2021-05-11 at 22:14
All-in-one solutions have grown in popularity with home users. By integrating all the electronics in a single large display monitor, they offer desktop power without the footprint of an old-fashioned desktop computer.
You're left with a keyboard, screen, and mouse (savvy users upgrade to wireless models for a tidy desk).
HP is an American company known for cleverly designed, affordable computers. The HP Pavilion delivers a great experience and tops our list of best computers for older adults.
The large 23.8-inch LED display has a Full High Definition (FHD) resolution of 1920 x 1080 for great clarity and sharpness; one reason why we rate it as the best desktop computer for seniors. You can use a mouse or touch the screen to select and move objects, or even draw.
The graphics system inside the computer uses an Intel Ultra High Definition chip which produces smooth streaming media content and gameplay.
A great audio system with dual speakers built-in and audio technology lets you use your computer as a stand-alone digital music player or watch movies with cinematic-quality sound.
Running Windows 10 Home, the rest of the computer hardware, with an i5 processor, a solid-state drive, and 12GB of upgradable memory ensures there are no bottlenecks or slow performance when you turn this computer on.
Pros
Can serve as an audio system, digital TV, live noticeboard and more
Looks pleasing in your living room.
Built-in webcam with pop-up camera protects user's privacy
HDMI port allows you to plug in other media devices and use the screen as a monitor
Cons
Not portable
It could have more USB ports
2. Acer CB3-532 15.6″ HD Chromebook — Best Google Chrome Laptop
#Affiliate links.Last update on 2021-05-11 at 22:14
Laptops running Google's Chrome operating system are a much cheaper alternative to those running Microsoft's Windows operating system. Because the software operates with Google's cloud services, there's plenty of storage and your existing G-suite tools are seamlessly integrated.
While modern browsers can achieve a lot offline, the idea of using cloud services is that sooner or later you'll reconnect to the internet to synchronize your offline work with the cloud again. That means you can continue your work on any other computer connected to the internet.
The Acer is well-designed as a budget portal to the internet. That said, it has a few decent features including a 15.6-inch screen.
Good connectivity is also taken care of with two USB ports (one of which is the faster 3.0 standard), an SD card reader to copy photos and video from your camera, and Bluetooth 4.0. A webcam and headphone input/output port is built-in too.
The hardware specs, with only 2GB memory and an Intel Celeron Dual-Core 1.6 GHz, are modest. But for a Chromebook running apps in the cloud, you don't need that much performance. As a bonus, less performance typically translates to increased battery life — in this case, a generous 12 hours.
Out of the box, it is a question of turning it on and you're up and running in less than five minutes. If you already have an Android phone, you have a head start when it comes to navigating your new Chromebook.
Pros
Portability and extended battery life
Big screen and good speakers
All input and output ports a laptop should have
Easy to set up
Great value for money
Cons
No touchscreen
No DVD drive
3. Dell Inspiron Laptop — Best All-round Laptop for Seniors
#Affiliate links.Last update on 2021-05-11 at 22:14
American-made Dell Inspiron computers have an excellent reputation for quality and value for money. The company's low-cost laptop computers are enduringly popular and the Inspiron is no exception.
The proven formula of an i3 processor, 15.6-inch touch screen display, and full-size keyboard with numeric keypad offers a great workhorse for all typical computer uses.
Whether it's creative writing, preparing your tax return, or just browsing photos of your grandchildren while streaming online radio, the Dell has you covered.
With three USB ports, up-to-date wifi and Bluetooth protocols, and even an HDMI output port, there's nothing missing on the outside. A webcam and an integrated microphone are also included.
Pros
Everything you want in a basic computer, and at a great price
Good performance for this price category
Weighs just one pound
Cons
Only 128GB hard disk space
No DVD drive
Users report occasional issues with wireless connectivity
4. Telikin Home Desktop Computer — Best Dedicated Computer for Seniors
#Affiliate links.Last update on 2021-05-11 at 22:14
You are either going to love this computer, which is designed and built just for seniors, or end up disappointed. Buyers used to operating systems like Windows, that connect with an endless number of apps and can be trouble-shooted by your 12-year old granddaughter, will be frustrated.
But if you want a computer that does simple tasks such as reading emails and browsing photos without any tech know-how, the Telikin might suit.
For many, this rates as the best simple computers for seniors, not least because of the friendly 24/7 tech support line that's available for a reasonable monthly fee.
The Telikin's all-in-one design comprises a 22-inch touch display with a detached keyboard and mouse. It may not have much memory and storage, but if you're using the computer for basic tasks, it's quite sufficient.
What elderly parents praise here is the clear display, quality loudspeakers, and in-built CD player.
The proprietary Teliken operating system makes no presumptions about your knowledge of keyboard shortcuts to toggle applications and so on.
Just turn the computer on and click the function you need; email, photos, games, music, calendar, office, or the internet.
Teliken's software is fully installed, just turn the computer on, connect to the net and you're away.
Pros
Custom designed interface for seniors
Will play streaming media (if no player download is required)
Can read your email out loud
Facebook and Skype are also available
Cons
Works only with HP printers
You cannot load any other apps
5. Fire HD 10 Tablet — Best Entertainment Tablet
#Affiliate links.Last update on 2021-05-11 at 22:14
If you're a book lover, you will definitely nominate the Amazon Fire Tablet for best computer for seniors.
Open the Kindle App, brew yourself a cuppa, and curl up on the couch with your favorite e-book. The Fire isn't too heavy either, so there's no strain reading for longer periods.
But make no mistake, the Fire Tablet is no plain Kindle reader but a full-fledged computer. It features a 2.0 GHz octa-core processor, 10-inch high definition touchscreen, 1080p HD video on a 1920 x 1200 resolution display, dual-band wifi and Bluetooth. Impressively, this tablet even boats a USB-C port and an audio jack.
The Fire has a front camera that's perfect for video calls and a rear camera for high-definition photography and videos. A micro SD card slot means an easy transfer of photos and videos.
We like that the operating system is a custom version of Android; you can access Google's Play Store and have unlimited access to other handheld device apps. Of course, you get excellent access to Amazon's services.
Pros
Great for basic digital tasks and entertainment around the home or when traveling
Performs well and offers good sound, image, and video quality
VoiceView screen reader, screen magnifier, and other accessibility functions for visually impaired users
External volume control
Fast charging and offers 12 hours battery time
Cons
Sound quality is poor
Not a high-end tablet but a simple entertainment device. Remember that it does what it says on the tin and you won't be disappointed!
6. RCA Galileo Touchscreen Tablet Computer — Best Hybrid with Detachable Keyboard
#Affiliate links.Last update on 2021-05-11 at 22:14
Get the best of both worlds with this laptop touchscreen computer featuring a handy detachable keyboard.
This affordable go-anywhere device runs an Android operating system and covers all bases, instantly converting from laptop to tablet and vice versa. Plus it's got all the ports and connections you need.
With enough processor power to match most phones running the same software, you can enjoy email, video, and web browsing on a larger screen — with a proper keyboard to write when needed. Perhaps the best bit is that it costs less than many smartphones.
The 32GB memory is enough to get started with apps and media storage but can be expanded later with a micro SD card. The full and micro USB ports and audio and microphone jacks mean you can use your existing accessories.
Pros
Hybrid design to suit all situations
The Android operating system is familiar to Android smartphone users
Full and micro USB ports
Cons
Limited battery life
Camera quality not exceptional
How to Choose the Best Computer for Senior Citizens
To avoid disappointment and choose the very best computer for elderly parents or yourself, start by clarifying what functions you really need. Many computers are targeted at business users, gamers, or hobbyists with specialized needs.
But even if you have a specific project in mind, chances are your technology needs are modest.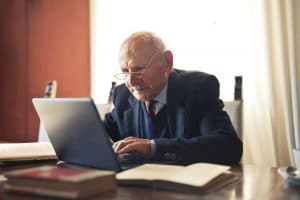 Enjoying online music, radio, video, or photography needs a decent display and speaker, at best.
You won't need, for example, the graphics processing that first-person 3D game-play requires.
If you need to write emails or even a whole book, you just want to make sure your new computer can run your preferred software, be that an online email program, or a full-featured word processing app like Microsoft Office.
But did you know that even Office 365 Online will run on any computer with an internet browser?
Seniors using computers may find new technology like tablets overwhelming, but given a chance will not fail to appreciate the benefits.
What Features Do You Really Need?
It's common for seniors to have deteriorating eyesight, so a good display is top of the list when looking for computers for them. Look for a sizeable display, good resolution, and graphics processing to match.
1080p is a common high-definition standard for watching videos. For that, you need a resolution of at least 1920 x 1200 — such as in the HP 24-inch Pavilion All-in-One.
Touch displays are attractive but keep in mind this is still 'newfangled' technology for many. An old-fashioned mouse can offer better control for unsteady hands. Then again, for you, it may well be the other way around.
Tablets are great and have become very popular as both readers and portable entertainment devices. But for some older people, using an on-screen keyboard is not a viable option. That's where a hybrid like the RCA Galileo Tablet Computer with a detachable keyboard comes into its own.
Computers are often sold on feature overkill. The Telikin Home Desktop Computer goes in the complete opposite direction and simplifies the computing experience by reducing features and options to the essentials only.
We hope our round-up of computer options has given you some good ideas in your search for the products.
Verdict
Overall, we rank the HP 24-inch Pavilion All-in-One as the best computer for older adults. A multi-functional device, it can stand in the living room as a media center, be a home office, or a dedicated web portal.
Users of the Telikin Home Desktop Computer often say that they own the best desktop computer for seniors because it is designed specifically for their needs.
If you're looking for a combination of browsing, emails, and entertainment, the best computer for elderly parents may be a tablet such as the Fire HD 10 Tablet. And if you are just after a well-built, no-frills laptop then you can't go wrong with the Dell Inspiron Laptop.