The best apps for seniors address the specific needs of older people. Android and iPhone apps for seniors are not limited to more accessible designs or simplified technology.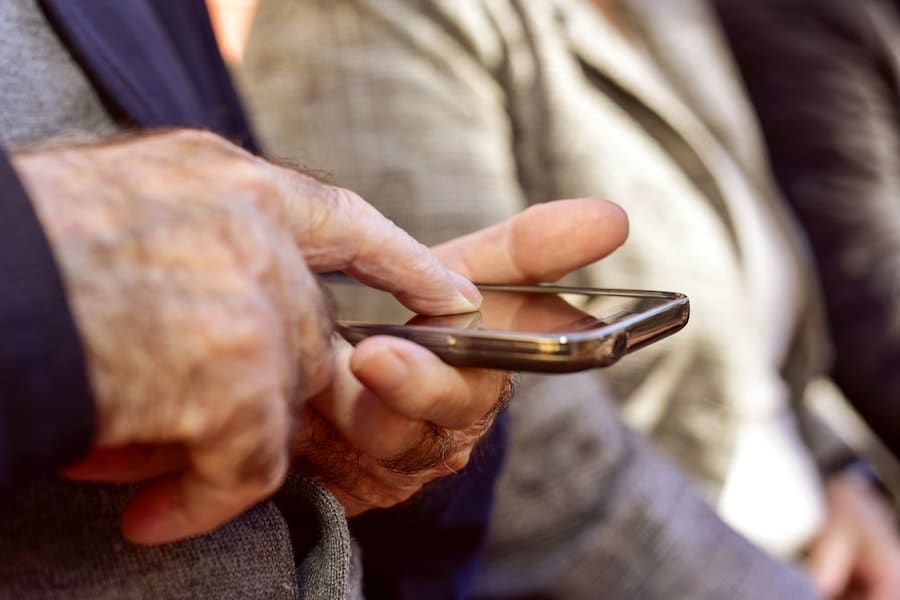 Good apps for old people can be a life-enhancing resource, like Audible Audiobooks. Or they help solve real problems, as the Medisafe Pill Reminder and TapTapSee apps do. The most inspiring apps we found were ArtRage and Train your Brain to best profit from your senior years.
We review six reliable solutions for everyday challenges that can bring real benefits to your life.
Our Picks for Best Apps for Seniors and Elderly
Reviews of the Best Apps for Seniors
We've researched many of the best apps for older citizens and have narrowed it down to six. Let's take a look.
1. ArtRage: Best Art App
As you grow older, the artist in you emerges. But a drawer full of dry paint brushes can quickly kill any artistic inspiration. So using a digital device can open up a whole new world of creating art anywhere and anytime you like.
ArtRage is a well made professional-grade art app to draw, paint, and create digitally. Using layers and a superb selection of brushes and canvases makes for delightful possibilities. You can also import photos directly into the canvas or pin them up behind as a reference to work off.
Pros
Tools have settings like Paint Thinner and Pencil Softness that imitate real-world properties.
Intuitive interface with all settings accessible while staying out of the way as you work.
You can sketch, draw, paint, and smudge realistically using fingers or digital pens.
Realistic simulation of properties like paper roughness, paint wetness, and pencil sharpness.
Able to record strokes to not only allow you to undo selected strokes but also for playback in the desktop version of the app.
Cons
Some users experience lagging on slower processors.
Does not support trials or refunds.
No full-screen mode.
Get ArtRage for iPhone or Android.
2. Medisafe Pill Reminder: Best Medical App
Avoid the worry of which pills to take and when, by letting your phone remind you in time. Some medication has to be consumed with a meal, or even before. Other pills are taken before bed, and even just once a week. This 'Medication and Tablet Tracker' will not only prompt you when to swallow your tablets but also keep track of how many pills you have remaining and when you need to get more.
Pros
Suggests medication names as you type to select the right one easily.
Shows a picture of the pill for easy comparison.
Each medication is explained in layman terms with an included video.
Possible to track blood pressure, glucose, pain symptoms, and other measurements.
History of medications and measurements can be exported via email.
A designated "medfriend" can be notified 30 minutes after you miss a dosage.
Cons
No easy way to set up taking pills on alternate days.
Users have had issues when there's no internet connectivity.
Get Medisafe Pill Reminder for iPhone or Android.
3. TapTapSee: Best Vision Assistance App 
Poor vision or lack of sight is incredibly frustrating, so using your phone to identify objects in front of you can be immensely helpful. With one of the best iPad apps for seniors, TapTapSee, you double-tap the side of the phone to take a picture and then have a cloud service analyze and tell you aloud what is in front of you. For moving objects, it's also possible to record a video and then to hear what was in the frame.
Pros
Identify still and moving objects.
Upload images and videos from camera storage.
Save images and videos to the camera together with the identification.
Share identifications via social media, text, or email.
Toggle to use with or without flash.
Cons
Cannot read out text on labels and signs.
Reliant on a good internet connection.
Get TapTapSee for iPhone or Android.
4. Audible Audiobooks: Best Spoken Books
With age, reading can become harder and more tiring. For book lovers, there's no better solution than spoken books. Audible has a near limitless supply of spoken books. And you don't need a Kindle if you install the app on your phone. Stop any time and then pick up where you left off. For many, this is one of the best apps for seniors.
Audible is a subscription service that offers you one free book and two other free items every month. There are different plans providing credits. You can save them up until you're ready to make a selection. More books can be purchased at a discounted price while you continue to pay for the subscription.
Pros
Enormous library of fiction, non-fiction, documentaries, podcasts, and children's stories.
Listen to streaming audio or download for offline listening.
Audiobooks are also often offered as companions for ebooks and some hardcopy text.
Books are automatically sorted into genres.
Purchased audiobooks remain with you even when you cancel your account.
Set a sleep timer when you read in bed.
Ad-free listening with paid subscription option.
Cons
Unable to hide finished books.
Doesn't show time remaining to play in the list.
Get Audible Audiobooks for iPhone or Android.
5. Train Your Brain: Best Game for Senior
Keeping your brain active is always high on the list for seniors, and what better way to do that than with games. These memory games will stimulate your mind, develop new skills, and provide endless entertainment.
The types of games include finding card pairs, avoiding obstacles while tracing the right path through a maze, remembering figures and numbers, memorizing patterns and elements of different images, and associating objects.
Pros
Play anytime on your phone.
Choose different levels to suit.
Daily memory training.
Regular updates with new games.
Made by a company specializing in easy adaptation and basic usability.
Cons
Contains advertising.
Cannot select order of games.
Get Train your Brain for iPhone or Android.
6. LeafSnap: Best Plant Identification App
Do you ever find yourself trying to remember what that flower by the roadside was called? Or do you want to know the name of a shrub in a park so you can get a seedling for your own garden? With this app, you simply take a photo of a leaf, a flower, or the whole plant to find out.
LeafSnap can identify 90 percent of known plants and trees, so that covers most species you're likely to encounter during your travels.
Pros
Instant identification of flowering plants, herbs, shrubs, fruits, and trees.
Huge plant library with information about every species.
Database regularly updated.
Subscription service.
Cons
No trial.
Timed ads delay access to the app.
Get LeafSnap for iPhone and Android.
A World of Apps
Smartphones and tablets provide real benefits to seniors. Even if it's not about owning a myriad of apps to offer countless functions, some of the best apps for seniors can provide increased independence and leisure opportunities. 
There are some specific benefits that can guide your selection of the best Android and the best iPhone apps for seniors on your device.
Listening and Voice Capability
With a built-in microphone and speaker, a smartphone is inherently capable of communicating with you, avoiding the need to read and type. Not only can this facilitate sending and receiving text messages but also assist those with no or poor vision as you go through the day.
The TapTapSee app, for instance, does a brilliant job of revealing the surrounding world to those without adequate vision. Enjoying literature can also continue thanks to the Audible app, which will play your audiobooks to listen to at home, as you drive or wherever you go.
Managing Medical Needs
Unfortunately, with advanced age, your health and fitness become more of a concern. At any age, being aware of steps walked and exercise achieved is motivating, but for older people, the more important indicators to monitor are blood pressure and temperature. These are fortunately functions of the Medisafe app, along with tracking and prompting for pills you should take.
Education and Training
It's never too late to learn something new. Whether that be a language or college degree, for the more ambitious, or a new skill like painting or gardening, if we're listing the best apps for seniors, then that must also include educational apps.
For all interests, there are apps, and we mentioned two above. You can use a digital device for creating art with ArtRage, one of the best iPad apps for seniors. An amateur gardener should never leave home without the LeafSnap app to identify any flower or tree by name.
Cognitive training in itself is also worthwhile, and there's an app for that too. We recommend Train your Brain to provide you with endless puzzles and games to keep your brain in shape.
So Many Apps, So Little Time
Even if the apps discussed here are only the tip of the iceberg, our recommended best apps for seniors will be sure to help and entertain you. If we had to pick a winner, then let that be the ArtRage app to bring the artist out in you. But if art is not your thing, then use your phone to help you rely less on your phone with Train your Brain.
Can you see yourself already going for a walk listening to an audiobook on the Audible app or finding a new flower you identify with the LeafSnap app? Can you see yourself taking a photo to draw a watercolor over it on your ArtRage app, and then not forgetting to take your pills as you lose all sense of time?
Enjoy these apps for old people!