Finding a comfortable manual wheelchair is not an easy thing to do and the shortcut is getting a popular model from a reputable company. This Karman LT-980 ultra-lightweight wheelchair seems to meet these standards, but what are the cons and pros of this chair exactly?
Simply put, Karman LT-980 a well-made manual wheelchair that is good for indoor use. You can change the seat height a bit for better customization but 250 lbs weight capacity decides it is not an option for people with obesity. Operating it is a breeze for the users and the lightweight frame makes it easy to transport by cars.
We will cover more details in this Karman LT-980 ultra-lightweight wheelchair review so that you can make the right decision after.
Pros and Cons
Pros
Good workmanship. Each part is made of high-quality materials and the frame is reasonably sturdy.
Lightweight. This chair is easy to fold, push and lift.
Better warranty. You will get a limited lifetime warranty from the company and there are also some add-ons available.
Fully-assembled. Except for the footrests, this chair comes as assembled.
Adjustable. You can change the seat height somewhat.
Cons
Costly. The products of Karman are usually a bit more expensive than its competitors.
Average maneuverability. The small wheels make this chair not a suitable choice for outdoor use. You will feel it is too stiff to propel sometimes.
Limited weight capacity. It is not a perfect fit for people who is over 6' tall. The weight capacity is only 250 lbs.
No companion brakes on the back so that it is hard for caregivers to control.
Specifications of Karman LT-980 Ultra Lightweight Wheelchair
| | |
| --- | --- |
| Weight Capacity | 250 lbs |
| Product Weight: | 24 lbs |
| Color | Black, Burgundy, Silver |
| Seat Width | 18″ |
| Floor To Seat Height | 18″ – 19″ |
| Footrest Type | Swing-Away |
| Armrest Type | Fixed |
| Frame Material | Aluminum |
| Assembly Required | No |
| Foldable | Yes |
Features and benefits
Lightweight aluminum frame
One thing that makes this Karman LT-980 wheelchair stand out is its lightweight frame. Made with high-quality aluminum, the weight is only 24 lbs without footrests. As you know, 24 lbs is often the weight of transport chairs, but for manual wheelchairs, it is hard to achieve.
Even though it is pretty lightweight, the frame is sturdy without the concern of breaking or getting wobbly. Nonetheless, the weight capacity is limited to 250 lbs, which is not so impressive when compared to other models in the marketplace. It also means it is not a wheelchair for a large man.
Good portability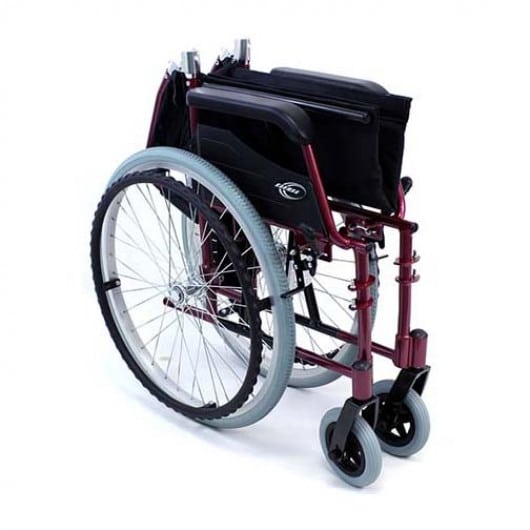 The lightweight frame, in tandem with its foldable design, making it a portable wheelchair even for seniors with weak strength.
You only need to take a few seconds to fold it or put it back. It can be folded into a compacted size that will fit into any trunk of a car. Thanks to its lightweight frame again, lifting it would not be a problem for your companion at any age group.
Compared to using a transport chair, you will feel more control while propelling the wheelchair by yourself. This chair can take it anywhere you want.
Limited adjustability
The Karman LT-980 ultra lightweight wheelchair is adjustable to some extent. Firstly, you can change the height of the footrest to cater to your own body height and the footrests are removable. Secondly, you can also change the seat height from 18″ to 19″.
However, as you can see, the range is so limited that it is useless for people who are not between 5′ to 6′.
Aside from the height, you can also choose which color you would like to buy. There are 3 colors available: black, burgundy and silver. However, you have to pay extra money for the premium colors: burgundy and silver.
We suggest you check the specs carefully before making the purchase.
Convenient hand braking system for wheelchair user
The manufacturer boasts that it has its own unique hand braking system. Located on the left-hand side, it is very easy for wheelchair users to reach and the only thing you need to do is to pull up the lever.
If there is anything Karman Healthcare can do to improve this chair, we will suggest adding handbrakes on the back for caregivers.
This is paramount that they can stop the chair from flipping and avoid other dangers without taking too much effort.
Not for outdoor use
There are a few reasons why we don't think Karman LT-980 is a suitable chair for the outdoors. It comes with 22″ rear wheels, which are relatively small, making it hard to move on bumpy roads.
There is not much tread on their Polyurethane tires which is known to avoid slipping. Add to that the fact the caregivers can't use the handbrakes to control the chair effectively, and this wheelchair may cause falls while climbing the slopes or down the hill.
Yes, you can use it outdoor occasionally, but you can find something better in the market. For those who only intend to use this chair indoors, you will feel pleased. It handles even surfaces well and since it has small front and rear wheels, it will get through most narrow doorways.
Average comfort level
Regarding comfort, we said that the Karman LT-98 wheelchair is a chair for those between 5′ to 6′. That said, if you are taller or shorter, it is hard for you to find a comfortable posture while sitting in the chair.
The padded armrest and breathable upholstery add more comfort for the users. But we recommend you buy an extra wheelchair cushion if you'll likely spending quite some time in it.
Plus, the backrest angle is not adjustable, meaning that your body will keep sitting upright which will cause strains and pressure after a while.
So, Karman LT-980 ultra lightweight wheelchair is not the most comfortable wheelchair you can find in the marketplace but it is good enough for short trips.
Warranty and customer services
You will get a limited lifetime warranty for the frame and Karman Healthcare also offers some add-ons for you to choose from.
Their customer services are responsive, ensuring you get good after-sell services.
You can find more details here.
Who Should buy Karman LT-980 Ultra Lightweight Wheelchair?
Once again, Karman is a trustworthy player in this industry so that you can rest assured their product quality is solid and you will get good customer service.
Therefore it is the right wheelchair for those who hate getting into trouble and want to get support whenever they want.
Some wheelchair users always desire to find something to take some tiredness off the caregiver's shoulder. If this is the case, then the Karman LT-980 wheelchair is the thing you need. Only weighing 24 lbs, lifting or pushing the chair would not be a hassle anymore.
But, before you make a final decision, you should think about the usage scenarios. Karman LT-980 ultra lightweight wheelchair works better indoors given the small wheels. Hence, if you plan to spend more hours out of doors, there are some better options.
Plus, it is a wheelchair for people who are not too tall or too short. Another metric you should give special attention to is weight capacity. With 250 lbs limitation, it is only a chair for people with an average body size.
Karman LT-980 Ultra Lightweight Wheelchair alternatives
1. Featherweight Wheelchair
As the name of this wheelchair suggests, this is an ultra-lightweight manual chair, if not the lightest wheelchair, we can find in the market by far.
Made with new material, the frame only weighs 13.1 lbs and the overall weight is 19 lbs which is 5 lbs lighter than Karman LT-980.
The wheel sizes are the same as Karman one, however, the wheels are quick-released, allowing you to lift and store it even easier.
Another advantage is that it is equipped with handbrakes for caregivers. This adds more safety for the chair.
Where maneuverability is concerned, this one works slightly better than Karman LT-980 on bumpy roads. With the help of companion brakes, you will feel more secure.
However, you have to spend a few hundred dollars more to get these benefits and the warranty is only 1 year for the frame.
2. Karman Ergo Flight Wheelchair
This is another popular wheelchair from Karman but with a higher price tag.
Featuring an S-shape seating frame, you feel much more comfortable when sitting in this chair. It will make a big difference for users who would spend hours in the chair daily.
It is also lighter than the LT-980 model which weighs only 19.8 lbs. To make it easier for transfer, the Ergo Flight one uses quick-release wheels which are not included in the LT-980 model.
Even though it has smaller 20″ rear wheels, it has better maneuverability indoor and outdoor. This may be due to the fact that they used many ergonomic designs in this chair.
Moreover, the Ergo Flight model comes with companion brakes and they are quite effective, allowing you to deal with any unexpected smoothly.
Conclusion:
After reading this Karman LT-980 Ultra Lightweight Wheelchair Review, you may already notice that Karman LT-980 is a lightweight manual wheelchair that is better for indoor use.
In fact, it is relatively expensive considering its functionality is basic. But you can get good services and a warranty from a reputable company.
Note that it is a wheelchair for people with average body size, check the specs carefully if you are not sure about it.